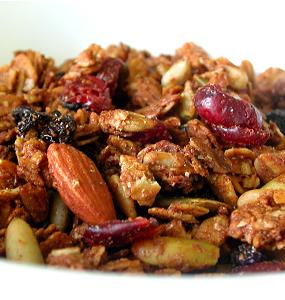 Sunday, July 18
Last time it was cookies. This time, it's
granola
!
When I
posted
and said that I had had cookies from
La Brea Bakery
in LA for breakfast,
Santos
tipped me off that their granola is also very good. Although I am a devout supporter of muesli when it comes to the preferences in breakfast cereals (sorry, I just lied; I eat other kinds of cereals, too), I couldn't help but think about it - La Brea's granola? It's got to be good! Since some of their bread, albeit limited selection, have become available even in my local stores, I was putting hopes in them, which has not been very hopeful as of yet.
Then the other day, my dear friend Joyce who had sent me those cookies just a couple of weeks ago just sent me another package in which she graciously included a bag of granola from La Brea! The granola in the bag looked absolutely handsome; shiny dark brown oats and rye covered with maple syrup and honey, accompanied by other goodies such as whole almonds and pumpkin seeds, and dried berries.
The granola was as good as I had expected (and in this case, my expectation had been
very
high, you know). Chewy oats, crispy bran and wheat flakes, and crunchy nuts and seeds together made a pleasant contrast of different textures, and generous amount of dried berries added a sweet and tart touch. In fact, dried cranberries in the granola were the best of this kind I had ever had - plump and chewy and definitely fruity, those ruby gems held the clear line against other mediocre dry, rumpled things called cranberries.
And it was flavored with not just orverused cinnamon but with nutmeg and clove as well; those spices did not make the granola noticeably spicy, but rather added fine nuances.
It reads on the back of the bag that the granola would make a "real treat" with yogurt and fresh fruits; although it really was good with yogurt, I found it better with just milk - to me, at least (I
love
yogurt, but somehow I like cereals better with milk).
Only problems is, there is not much granola left in the bag already... I sometimes wonder if I am the only one who sees "serving sizes" of breakfast cereals are often way too small to make a meal; I mean, this 16oz bag of granola supposedly has eight servings, but it clearly wouldn't make me eight breakfasts!