Thursday, July 15
I have been playing around with the microwave cake recipe that I found a few months back. Changing ingredients and quantities, I must have tried almost ten different variations - some of them turned out pretty disappointing, while some of them proved really good, not just for a cake made using the microwave, but as a cake in general. A few of them were so good that I thought I could even share their recipes with those who are interested.
The original
recipe
(in Japanese) was for a chocolate cake. I am not translating the exact recipe into English here, chiefly because of intellectual property issues, but at least I can tell you that the recipe itself is pretty simple - using common ingredients such as butter, eggs, sugar, flour, and unsweetened cocoa powder. And what I did was converting metrics into US standard measurement, adjusting the quantities of ingredients to make measuring simpler, and replace some ingredients with something else. I substituted butter with oil, tried soy milk instead of eggs, omitted cocoa powder and added green tea powder, made completely oil- and dairy-free version, etc. After several trials, I came to a conclusion: I can reduce the amount of oil/fat content without ruining the taste of resulting cake, but entire oil-free ones weren't as good; soy milk actually works better than eggs; and ones using cocoa powder tend to taste better than those without.
The best part of making those microwave cakes, obviously, is that it usually takes only ten minutes or so to make; measuring the ingredients, preparing the batter and cooking, all inclusive, unless I put something involving extra preparation (e.g. roasting and chopping nuts). Another good thing I think is that I don't need too many utensils or bakeware; I typically use only three stuff: a tablespoon, a whisk, and a microwave-proof storage container (I prefer to use a Ziploc 4-cup square container).
Ironically, the
best-tasting version
was that very close to the original;
plain chocolate cake
. This one also happens to be the easiest to prepare, so I shall use this version to present my "basic" microwave recipe.
******************
Cheater's dark chocolate cake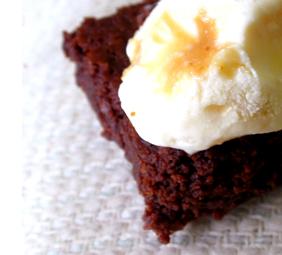 Ingredients:
Approximately
2 Tbs. butter or vegetable oil
3 Tbs. sugar
3 Tbs. plain soy milk (or 1 egg, alternatively)
2 Tbs. unsweetened cocoa powder
2 Tbs. all-purpose flour
1/8 tsp. baking powder
Directions:
Melt the butter in a 4-cup (approx. 4") square container using the a microwave. If using vegetable oil, just measure the oil into the container (do not heat).
Add the sugar and stir well.
Add the soy milk and stir well.
Add the cocoa powder and stir well.
Add the flour and baking powder, and stir well.
Put the lid on the container; do not "snap & seal" - just put it one the container so that an excess steam can be released out of the container while cooking. Put the container in the microwave, and heat for 2-2.5 minutes. Take the container out of the oven immediately when the cooking is done, take the lid off, and let cool for at least a few minutes. Cut into four squares. Serve.
Note:
Unlike regular baking, I usually don't measure the ingredients beforehand when making this cake; I measure the stuff as I need over the process of making the batter, i.e. scoop sugar with a tablespoon out of the bag into the container, measure soy milk using the same tablespoon and pour in the batter, wash or wipe clean the spoon, and measure cocoa powder, and so on.
The quantities of ingredients are approximate. Sometime I use 1 or 3 instead of 2 Tbs. of butter/oil, while reducing the amount of soy milk from 3 to 2 Tbs.
I often use brown sugar, but it can be substituted with any kind of sugar.
Soy milk should be pure, plain one, i.e. ones made of soybeans and water only; no added sugar, flavorings, or preservatives and alike.
I don't sift dry ingredients (cocoa powder, flour and baking powder), although it is of course up to you.
Also, I usually measure baking powder by eye, so I don't have to use a 1/8 teaspoon!
Often when making a cake batter, I would try not to overmix once I add flour. For this cake however, I somehow feel comfortable in stirring the batter vigorously so all the ingredients are mixed into one smooth batter.
As is the case with any other microwave cooking, the cooking time substantially varies by oven. My microwave is 950 kw, and the cooking time is based on this - so adjust to your own microwave. Also like any other microwaved stuff, the cake tends to dry very quick. I wouldn't really recommend to keep the cake even overnight.
The cake is usually good just as is, but it can be served with sprinckled powdered sugar on top, or with whipped cream or ice cream on top.
******************
I made this plain chocolate cake this afternoon. As I stirred in the ingredients, I found out that I was running out of cocoa powder; I only had one tablespoonfull of it, so I used melted dark chocolate in addition to cocoa powder - probably about one tablespoonful or so (I didn't measure). Served with Haagen Dazs' macadamia nut brittle ice cream, the cake was very rich and delicious.
Starting with this version, I tried a bunch of other stuff in place of, or in addition to, the cocoa powder, including the following (
please note: I didn't take note every time I made this cake, so the quantities are approximate
):
-
black sesame
, using:
1 Tbs. vegetable oil
2 Tbs. black sesame paste
2 Tbs. sugar
3 Tbs. soy milk
2 Tbs. ground black sesame
2 Tbs. all-purpose flour
1/8 tsp. baking powder
This turned out to be really sesame-y, but might have been a bit too dry.
verdict: decent
-
matcha (green tea)
,
by substituting 2 Tbs. of green tea powder for the cocoa powder in the recipe for plain chocolate cake.
It tasted fine, but the 2 tablespoonful of green tea powder was too much - I should have used 1 spoonful instead.
I served a slice with matcha ice cream, making it
really
green-tea-y!
verdict: intention was good
-
creme de marron (sweetened chestnut paste)
, using:
1 Tbs. vegetable oil
2 Tbs. creme de marron (sweetened)
1 Tbs. sugar
3 Tbs. soy milk
2 Tbs. cocoa powder
2 Tbs. all-purpose flour
1/8 tsp. baking powder
Probably because of the addition of the thick chestnut paste, it took a bit longer to cook the cake - it was about 3 minutes total. For the same reason, the cake was kind of heavy which I didn't really like. Nevertheless, served with marron cream (mixture of creme fraiche and creme de marron), the cake looked fancy and tasted pretty good.
verdict: not bad
-
orange and thyme
, using:
2 Tbs. vegetable oil
3 Tbs. sugar
1 egg
1 Tbs. orange juice
3 Tbs. all-purpose flour
1/8 tsp. baking powder
2 tsp. grated orange zest
1 tsp. finely chopped leaves of fresh thyme
As I said in a post several days ago, this one turned out decent, but didn't taste as exciting as I had hoped. I used an egg this time, but suspect soy milk would have been better. I wonder if it would be better if I add cocoa powder....
verdict: needs refinement
-
peanut butter and jelly
, using:
1 Tbs. butter
2 Tbs. sugar
2 or 3 Tbs. unsweetened peanut butter
3 Tbs. soy milk
3 Tbs. all-purpose flour
1/8 tsp. baking powder
1-2 Tbs. of red currant jelly for topping - place small portion of jelly on top of the finished batter and lightly mix with a knife to obtain a marbled effect. Substitute with any other jelly, such as raspberry or grape.
This one turned out amazingly good; probably as good as the plain chocolate cake, or even better (well, I
love
peanut butter). I confessed that my recent attempt to bake peanut butter & jelly squares using my old good recipe only resulted in creating a horrible batch of fatty mixture of peanut butter and flour, but this microwaved cake turned out to be almost the same as the other, except this one was a lot more crumbly and fragile.
verdict: excellent
Other versions I tried but would not really worth sharing the recipes of include:
- Creme de marron, without cocoa powder. It was too sweet and tasted bland.
- Cream cheese. It wasn't bad, but not particularly good, either.
- Chocolate cake with orange zest and slivered almond. Again, itt wasn't bad, but I would rather keep it simple.
- Chocolate cake with rum/grand marnier. Mmmmm... maybe I just put too much liquor.
I like making microwave cake because it is so easy and quick to make, and the recipe is versatile and allows a range of variations. And on top of - or maybe because of - these reasons, I find it particularly useful for experimenting with a new flavor or combination for a cake. Like I tried the pairing of orange and thyme, I can casually try a new things in a very small batch of cake and see how it turns out. If it is good, I can try it in other regular cakes, and if it doesn't quite work - well, I don't have much to waste!
I hope you will find these cake very easy to make, and even enjoy the process of trial and error as much as I do!