Tuesday, August 3
Yesterday I baked
zucchini bread
again, using the same recipe that my friend gave me and now had spread among us on the net. It was only my third time making it, but I liked it more and more every time I made it.
After I already measured some of the ingredients, I found out that I only had one egg in the fridge; I had adjusted the amount of ingredients so that I'd use two eggs. What should I do? Well, if you haven't got it, you make substitution; I used some soy milk in addition to the egg. Then I also replaced some of the oil with flax seed meal, not because I didn't have enough oil, but just felt like it. When I took out some walnuts from the fridge, I took notice of the leftover grated coconuts; might as well, use it up, I thought and roasted them together with the walnuts. And as a self-appointed hard-core ginger abuser, I also added chopped crystallized ginger.
Loaded with all the goodies, the loaves of zucchini bread came out tasty as ever, even if this time it substantially deviated from the original. Because of molasses sugar and brown sugar that I used, my zucchini bread had a deep brown color inside; they might not be looking pretty, but tasted oh-so-good. Thanks to my friend we call
OLE MISS
, the very one who made this recipe, I am here sharing her recipe with you all - see the
comment below
.
******
For dinner I made
rosemary lemon-lime pasta
. I found the
recipe
in
Dean & DeLuca: The Food and Wine Cookbook
(Jeff Morgan, 2002, Chronicle Books). Everything in the recipe was my favorite stuff - rosemary, lemon, lime, and parmesan cheese, all combined together in olive oil, salt and pepper. Sounds fantastic!
I gingerly grated cheese (parmigiano reggiano, of course), juiced a lemon and lime, chopped rosemary, while boiling the water and cooked pasta; this time I tried corn pasta that I recently heard should be good.
The sauce was ready in a matter of 10-15 nutes, and by the time the pasta was done, we were ready to eat. When I threw the drained pasta into a bowl of sauce, its remaining heat bloomed the aroma of the citrus and rosemary... that was enough to put a smile on my face.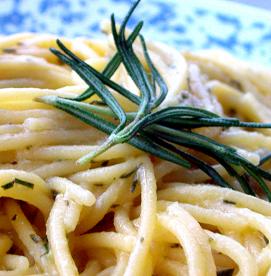 The finished dish was lovely, although it was a bit too salty; I didn't even put much salt in the sauce, but the cheese was quite salty and the amount of pasta I cooked wasn't matching the sauce (I made about a half the amount of sauce in the recipe while I cooked about one third of pasta required). Nevertheless, I really like the dish and will definitely make it again.