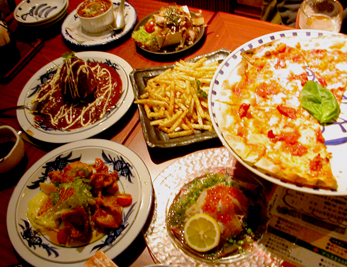 Wednesday, January 12
I am still in Japan, occasionally enjoying the cold weather, mostly stuck in front of computer working 24/7 (okay, little less. I mean, a lot less). I haven't been going out much like I did at the end of the year, but the other night I went out for dinner with
him
, my sister and her husband, before
he
was leaving here for Hawaii. With someone who doesn't want to eat fish/seafood (
him
) and someone who doesn't eat meat (my sister), it could be a bit of trouble finding a right spot to please everyone... and we settled down with an
izakaya
, or Japanese-style bar/restaurant near our place.
Izakayas
have now become very popular among all generations (except for those aged <20, for the record) in this country, with a large variety of usually reasonably priced decent food. Lots of them offer dishes of various origins rather than single cuisne, such as "Japanese", "Italian", or "Chinese". They also tend to have "fusion" food, although the backbone is most likely Japanese that has influence of foreign cuisine, most often Chinese, Italian, and increasingly Thai and Korean. They can also be a source of inspiration for creative dishes, and I have made a lot of things with an inspiration from
izakaya
food.
That evening, there were three of us first - my sister was coming late from work - so we had to have (apparently) fishless dishes to feed the hungry meat-eater. We ordered several stuff, which came more or less all at once:
(sorry about the small, dark and blurry photos)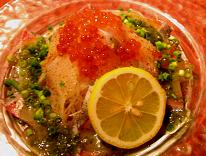 Carpaccio with amberjack sashimi. Carpaccio is originally ultra-thin slices of raw beef topped with arugula and shaves of parmigiano reggiano and drizzled with olive oil, but over here its sashimi-versions seem more common; marinated thinly sliced sashimi served with greens and herbs. This was topped with a generous amount of salmon roes and tasted pretty good. Well this was the only "real" fish dish that we had in that evening.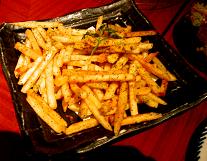 French fries
aglio olio e pepperoncino
. Regular French fries flavored with garlic, olive oil, and chili peppers.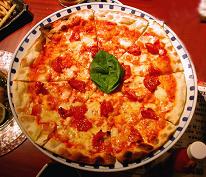 Pizza Margherita. Not much of "twists" on this one, but a very simple thin-crust pizza with tomato sauce, cheese, and tomato dices (and one[!] leave of basil). Wait, I didn't have any bite of this... (who could that have been to be blamed for?)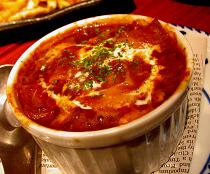 Beef tendon stew. I don't think beef tendon is common at all in the US, but when it is slowly and carefully cooked, it becomes REALLY tender and ready to absorb soup/stock/sauce.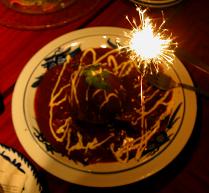 Rice ball with a hard-boiled egg in demi-glace sauce. Called
Arancini
in Italian, it is a deep-fried ball of rice flavored with tomato sauce and mozzarella cheese. This one had a whole hard-boiled egg inside and came with a sparkler (which wasn't for consumption, I suppose). This dish was named "Godzilla's egg". Wonder why.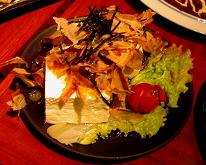 Tofu with Chinese-style dressing. Dressing seemed to contain soy sauce, sesame oil, some Chinese pickles, and a hint of chili.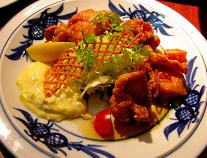 Deep-fried chicken with sweet and peppery sauce and tartar.
All these dishes came almost at one time, which means we had a tough time trying to eat everything in a right condition; if I tried to have the potato fries while they were hot and crispy, I had to miss sizzling-hot beef stew. We all gobbled things down over a beer (or two).
Then the other dish came: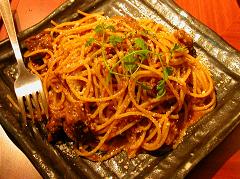 Spaghetti in beef stew. I don't think I ever had had beef stew with such pasta, even though although they serve stew with egg pasta like tagliatelle, but it was not soupy at all, and tasted actually good. I think it would be a nice change for regular ragu (Bolognese sauce). But this was a third dish using demi-glace sauce this evening....
When the first batch of dishes came, we all thought that was way too much food, but by this time they were pretty much gone and we were getting full. Then my sister came late and joined us, and ordered a couple more dishes: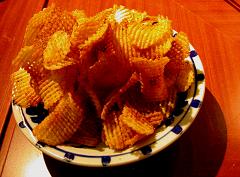 Potato chips "cajun flavored". A bit like the French fries
aglio olio e pepperoncino
in taste, but it had a whole lot different texture - thin, light and crisp.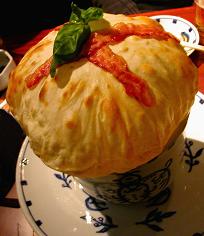 House salad. Beneath the funky puffy pizza dough was a bowl of caeser salad. First we stabbed open the crisp balloon, cracked it into pieces, then mixed into the salad.
Everything was pretty good, reasonably portioned, and was decently priced overall. This is a kind of place that I miss when I am in Hawaii; a place where we can share many different styles of dishes instead of having a huge plate of pasta enough to serve me two full meals. It might be a bit like a potluck, except that I don't have to cook.
Among the dishes I had this time, I might try and reproduce French fries
aglio olio e pepperoncino
and spaghetti in beef stew at home.
I shall come back with a little more food from Japan before going back to Hawaii....