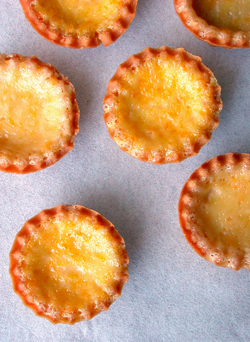 I have been in the mood for
tartelettes au citiron
, or small lemon tarts for a while, like
these
. While I am still going to try the same whole-lemon tart recipe using a Meyer lemon, I did a bit different one recently, using a
lemon
and one of the last-crop-of-the-season
yuzu
.
This time I used another tempting
recipe
I found in
book
My French Kitchen: A Book of 120 Treasured Recipes
by Joanne Harris & Fran Warde (2003, William Morrow). I really was going to make tart dough on my own, I swear, but I ended up using store-bought tartelette shells this time, because I don't own a tartelette pan or anything substitutable.
When you are making lemon tarts and not making tart shells, the easy recipe gets even easier; all I did was zesting and juicing lemon and yuzu, beating an egg with sugar, cream, and butter, and mixing together and filling the cup. The rest was up to the oven.
It seemed as if it would be impossible for these to fail, but they eventually did. Those cheap tart shells couldn't quite hold the runny citrus filling and cracked up as they cooked, in particular lemon tartelettes which had more juice than yuzu ones (yuzu typically don't have as much juice as other citrus including lemon and orange).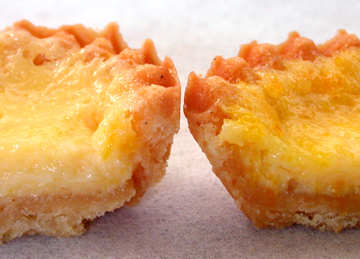 Even so, they tasted fine, quite lemon-y and yuzu-y, respectively (the one with paler-looking filling is lemon tart, while the more orang-y one is yuzu), although I found the filling slightly eggy; they might have been a bit underbaked, or I don't know. I don't think I did justice to the recipe though, I should come back and try this by making proper tart shells and paying more careful attention while baking.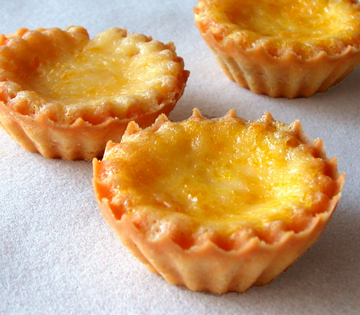 Okay, another next-timer here... while good winter citrus supplies last (oh I have so many other things I want to make using citrus fruits!).