Is spring around your corner yet?
Having never stayed in this mountainous countryside that is Nagano this time of the year, I have little idea as to when it should start feeling like spring here. The day is getting longer and the sunlight is becoming warmer, yes, but the wind is still bitterly cold and our fireplace is thus rarely out of fire. I think we had several warm days over the past few weeks, but it has definitely been mid-winter cold for these last few days.
So when I thought about whipping up a drink with a sakura flavor, I found myself drawn to a wintertime favorite...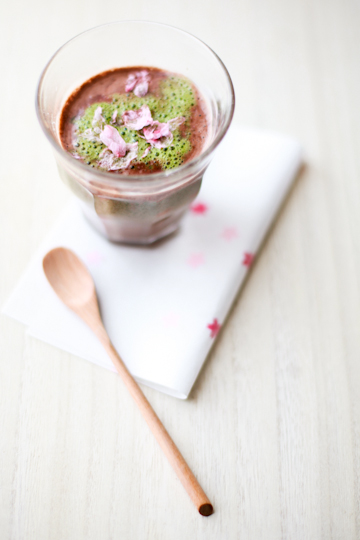 ...except it had a whiff of spring:
sakura & matcha hot chocolate
. Both matcha (green tea) and sakura tend to be paired with white chocolate rather than brown chocolate, perhaps to keep their colors - bright green of matcha and delicate pink of cherry blossoms -, but they both work well with bitter/milk chocolate, too.
Here I loosely followed a recipe found in
here (in Japanese)
: for each serving, heat 80-100 ml or so (little over 1/3 cup) of milk together with 2-3 heaping tablespoons of chopped dark chocolate, stirring to melt the chocolate thoroughly; in a small bowl, whisk together a heaping teaspoon of matcha and 2-3 tablespoons of boiling water until thoroughly blended and foamy; pour the chocolate milk in a glass and top with foamy matcha; sprinkle with some sakura sugar and a few petals from "blooming" sakura (a salt-cured cherry blossom soaked in water for a few minutes to remove excess salt, then microwaved until dried and popped); serve immediately.
It's best
not
to stir before you take your sip, but allow the flavors of matcha and chocolate mingle together in your mouth, with a hint of salty sakura along the way.
And did I say matcha and sakura tend to be paired with white chocolate? Well, they are, and for a good reason; mild, mellow white chocolate seems to take the bitter or sour edge off matcha or sakura (which, in food items, are usually prepared by curing cherry blossoms/leaves in salt), as it did in these
matcha and white chocolate squares with sakura
.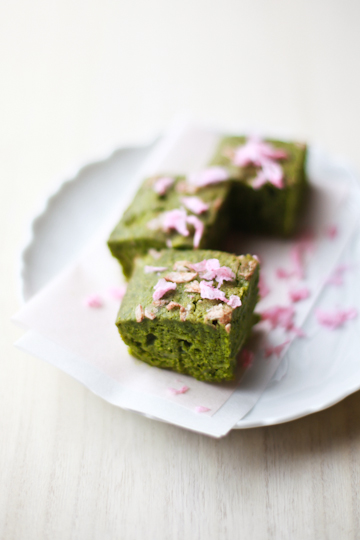 The
recipe (in Japanese)
is basically a one for brownies, except the results were, well, not brown. Should I call them greenies? That sounds sort of wrong, but I don't know.
You can look up the
recipe in English courtesy of google translation
- the translation leaves much to be desired, but you can at least get the ingredients (for your information, "soft flour" is supposed to refer to pastry flour, "tea" to matcha powder, and "BP" to baking powder). I used a little less white chocolate than specified, and added 1/2 teaspoon of sakura leaf powder. It can be a one-bowl (or -pan) recipe, as you can just melt the butter and chocolate together, add the egg, sugar, and sifted dry ingredients, mixing well after each addition of the ingredients.
I sprinkled sakura petals (also from a microwave-bloomed cherry blossom) over the batter before baking (and some more before serving), but the sakura flavor here comes mainly from the leaf powder used in the batter. At first, I was disappointed as I didn't taste much of sakura, but when the squares were left overnight, the flavor became a lot more pronounced - though not overpowering. I used sliced blanched almonds, but chopped pistachios would have been nice, too.
And yes, all the sakura stuff I used here?