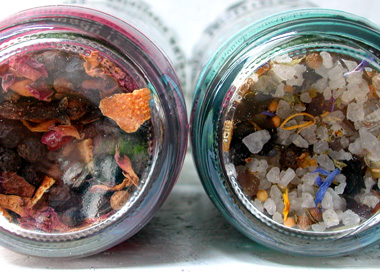 Last Saturday afternoon for late lunch I opened up my two brand-new grinders of spice mix to grind them over a simple plate of vegetables. The spices were Elements of Spice by
the Cape Herb & Spice Company
and the vegetables were roasted potato wedges and green salad.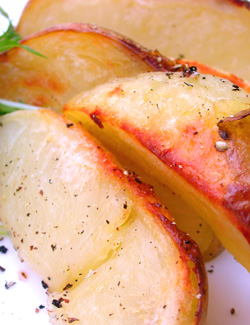 Potatoes were oven-roasted with a drizzle of olive oil and a generous dose of Grains of Desire, a slightly hot and vitalizing mix of black peppercorns, red rose petals, grains of paradise, ginseng, orange rind, nutmeg, and cloves and salt, finished up with an extra grind before serving.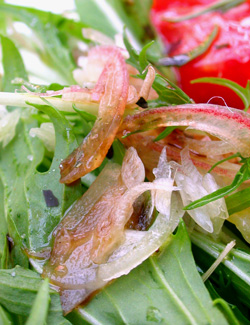 The salad had mizuna leaves, myoga, and tomatoes dressed with olive oil, vinegar, and several grinds of refreshing and mellow Splash, consisting of sea salt, parsley, black pepper, coriander, nori, sea lettuce, oregano, basil, onion, garlic, poppy seeds, clelery, bay, chilli, lemon grass, mustard seeds, and herb petals.
When my spices are already blended to perfection, there's little I should add on - prepare my vegetables as simple as possible and let the spices do the trick, allowing their flavors to take center stage on my dish.