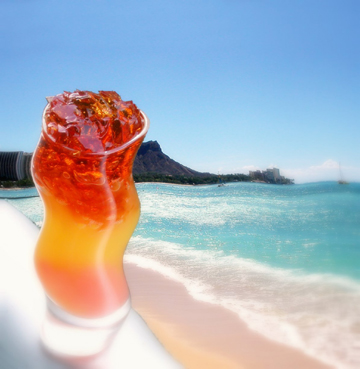 It was yet another sunny hot day on the island of Oahu, Hawaii. I was on "vacation" with my friend N who had visited me on the Big Island and now was stopping at Honolulu on her way back to Tokyo. We were seated at a table in a posh
Neiman Marcus
restaurant in Ala Moana center, called Mariposa, a bit disappointed having just learned that they didn't do afternoon tea on that day. We had still decided to eat there, and had ordered some drinks and food, looking over Ala Moana beach just outside.
It has been two years now, and I still remember our lunch. It was a beautiful day, the food was good, and we enjoyed the atmosphere a lot. I liked the portabello burger I had and their signature popover - but these are not what I am going to talk about today. It is their tea that my friend ordered (I didn't) that came into my mind in my planning for the July edition of
IMBB
, featuring
tea
as a theme.
The tea is called Plantation Tea, and if my memory serves me right, it consists of pineapple and guava juices, and passion berry tea or something like it. I actually have the "official" recipe of it in
Neiman Marcus Cookbook
by Kevin Garvin and John Harrisson (Clarkson Potter, 2003), but the book isn't at my hand right this moment, so I might not be right. Anyways, they serve the tea in a tri-layer presentation at Mariposa, making it pretty for the eyes, refreshing to the taste bud, and soothing in the throat.
For the IMBB this time around, I first had something else on my mind. But somehow, this pretty tea drink came across my mind, for reasons I don't know myself. I first thought of trying to duplicate the tea, but then another idea occurred - making it into gelatin dessert, maybe because I had just done a
post about jasmine tea gelatin
on this blog. It has been hot, so gelatin dessert is a perfect treat now, and frankly speaking, making three layers in a glass is a lot easier with gelled stuff than with plain liquid.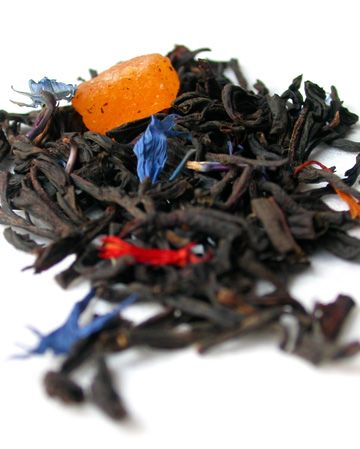 For this project, I went around town and looked for suitable tea, and settled down with a tea called Passion Island from
L'Epicier
, a Japanese tea shop that happens to have an outlet in Honolulu's Ala Moana center. The tea is said to be flavored mainly with passion fruit and mango, along with some brossoms. It smells lovely, and is good for
real
iced tea.
For my
"Jellied" Plantation Tea
, what I did was this: I made strong unsweetened tea and had 100% pineapple juice, and sweetened guava juice (which was best I could get here); added prepared unflavored gelatin powder to each (amounts depend on how much you want to make - consult the back of the box of gelatin powder); chilled the three gelatin mixtures in the fridge overnight; crushed them into small pieces, and; spooned them into a tall glass in three layers.
This, in fact, was extremely easy to make, as you can imagine. There was nothing complicated involved in making it, and the only thing I took care of was to make sure the juices were ready for gellatinizing; tropical fruits, including pineapple and probably guava as well, have an enzyme that prevents the juice from being gelled. I have heard that juice from concentration is okay to use as it has been heat-treated in its production process. For this reason, I briefly heated the guava juice, for which I was not sure whether it was from concentration.
And my juices got gelled alright, although pineapple one was a bit runny - it might have been because of the enzyme, or I might just have used too little gelatin powder for the amount of juice I had.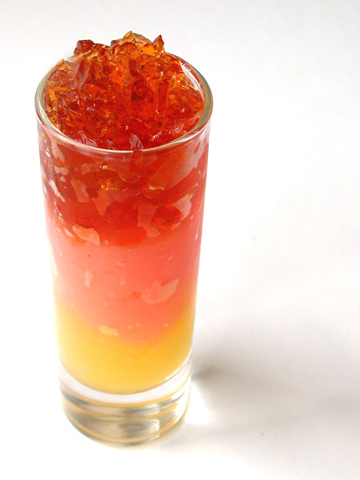 Still, my glass of gelled tropical tea turned out outrageously good - the mixture of tropical tea and fruits was very much reminiscent of Hawaii, even to my sister who has been to Hawaii but not to Mariposa itself. I was going to serve it with syrup, but the juice sweetened it up just right. My creation did not look as sophisticated as the real Plantation Tea they serve at the restaurant, but it was just as delicious, refreshing, and memorable.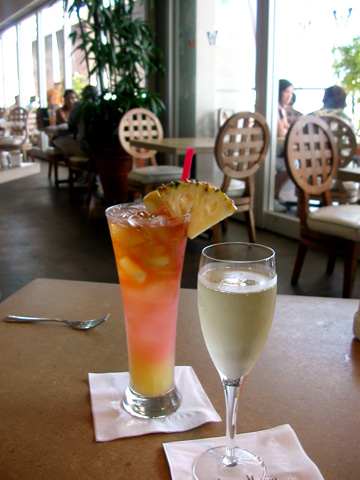 Thanks
Clement
for hosting this event with the great theme - you have stirred a good memory of mine.
Drink it or eat it - everyone enjoy your tea!