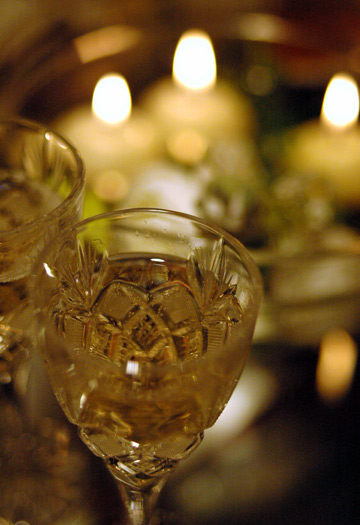 Starting with a bottle of Gosset, we had a quiet, small but joyous dinner at home in the Christmas day evening. Usually, businesses don't close and people don't take a day off on Christmas day in Japan, but this year it was Sunday and we even had a 3-day weekend, so I reckon a lot of people got to have real Christmas "holidays" this time. I, meanwhile, had a deadline on the 25th and had been in the homestretch from the night before, although, I did get around to putting together a cake for the day early in the morning.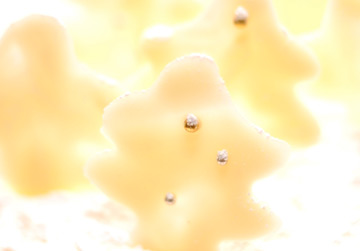 We rarely have snow around Christmastime in Tokyo, and we didn't this year, either. But I had some in my house, on a plate, upon a pretty small white cake called Snow Forest Cake. Ever since I had found its recipe in book
Je veux du chocolat!
by Trish Deseine (Marabout, 2002) I had meant to make one myself; all in white, it looked just so pretty in the picture.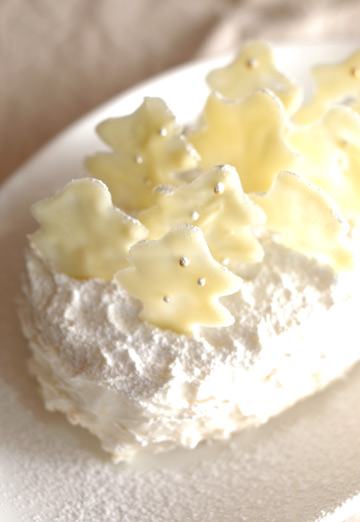 This was a layer cake, with cake made using melted white chocolate and heavy cream, filled with lemon curd and butter cream, frosted with butter cream, and topped with white chocolate pine trees and a finishing snow of confectioner's sugar. To tell you the truth, I hadn't particularly been fascinated by the components - it sure looked adorable, but seemed to be rather plain, sweet cake, frankly. I actually got intimidated by the amount of sugar used, so cut some down in the cake and buttercream (for the lemon curd and pine trees parts, well, there wasn't much I could do).
Little did I know. First one bite into it knocked me down; it was sweet - sickeningly so. It's not that the taste was bad, but come to think about it, it was too sweet for me to taste anything but the sweetness. My first bite ended up being the last bite of the day, I really couldn't take it any more. I was shocked by the fact that I made something that I myself actually couldn't eat.
It was buttercream that ruined the whole thing. The cake was okay, white chocolate and lemon curd acceptable, but buttercream - it's not that I hate buttercream in general, but this particular batch was way too sweet, even though I had cut down the sugar in it. As I couldn't bring myself to use it up in the cake, I desperately made the remaining buttercream into another cake next day.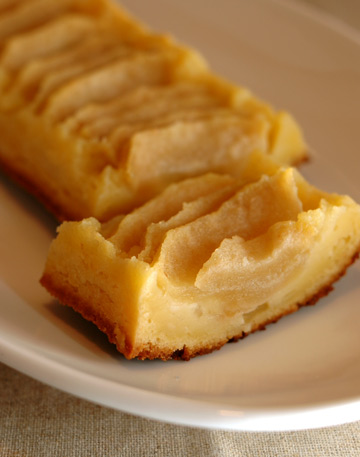 Basically, the buttercream was whipped butter with sugar. There I added an egg, some sour cream and flour along with mazipan paste, which I used in place of ground almonds. I baked the batter with apple slices, and there came out a decent square of apple cake. It tasted quite good - in fact, it tasted at least two thousand times better than the buttercream itself. Besides, I felt relieved as I didn't have to chuck the stuff away.
By the way, a bite of the pretty white cake made me not want to eat any more sweet stuff on Christmas day, I ate my fruit cake on the next day.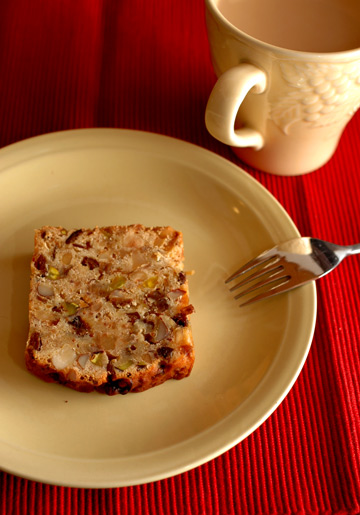 Having sit for a week or so
, the cake was supposed to have fully developed its taste by then, according to the recipe I used. Or was it? We found it a little too boozy, still; it would be tasting a little better after another week or so. Hopefully.
But at least the tea was good: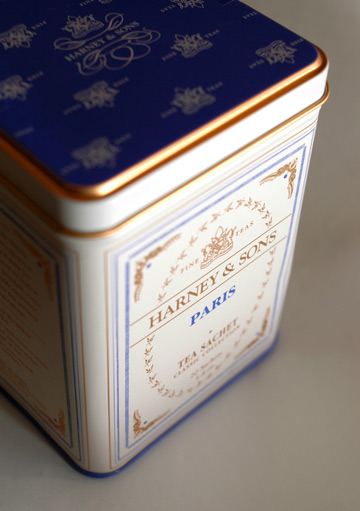 The vanilla-citrus flavored black tea in this beautiful tea caddy was among the exciting stuff (like White Chocolate Reese's, rose candies, and curried macnuts, I mean) in a package that
Santos
had sent me over from Guam a while ago. I had never had tea from
Harney & Sons
, but it was a kind of tea that I like - strong, full-bodied, and aromatic. Thanks Santos!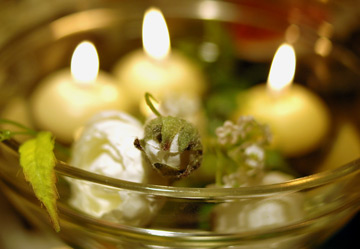 I had made some more Christmasy stuff other than these, which will come in the next post. In the meantime, I hope everyone had a lovely weekend, whether it was for Christmas or just another ordinaly weekend.