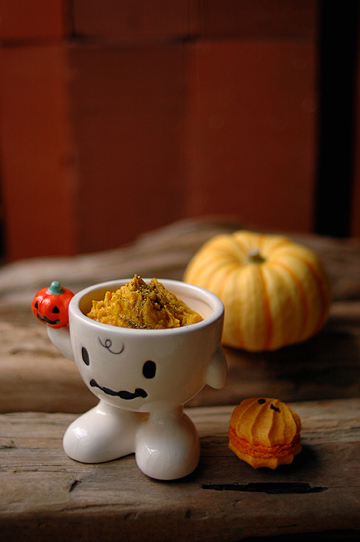 happi hallowin!
So this year's Halloween Day came and went just like any other day. No lantern carving, no costume parties, no trick-or-treaters. Unlike some other festivals/holidays of a foreign origin such as Christmas or St. Valentine's Day, Halloween has never really taken root in Japan, except maybe as a much commercialized hype (for that matter, in fact, Christmas and St. Valentine's Day are more or less the same).
That said, I've been more than mildly amazed by just how widely Halloween is now recognized by among people nowadays; several years back, you would have to turn to specialty sources for Halloween goods, which are now found everywhere from online shops to department stores and even small local shops. I couldn't believe it when, on the day of Halloween this year, I found a large, orange pumpkin for lantern at the storefront of one small supermarket in my neighborhood; I had heard that you could mail-order or otherwise order one from a specialty shop, but never at a local supermarket!
Another thing that took my notice this year was that now Halloween business is no longer just for "Western"-oriented markets; even
wagashi-ya
, or Japanese pastry shops, are now among the Halloween sales battle, armed with sweets that have a spirit of Halloween while observing Japanese tradition, like this: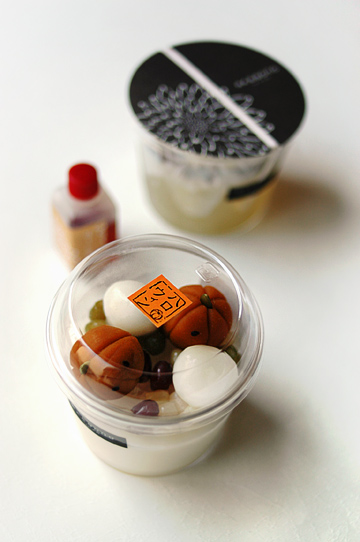 Neatly packaged in plastic cups, these desserts both feature seasonal themes.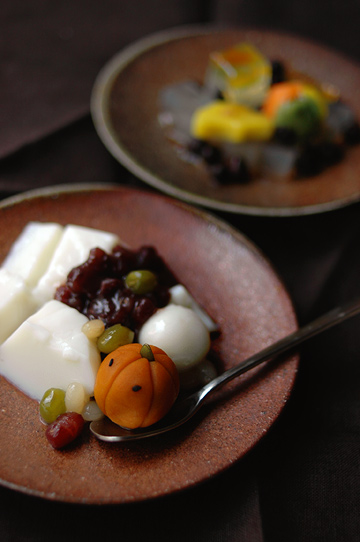 One was, obviously, Halloween-themed; Jell-o-like tofu pudding served with toppings including little pumpkins made from sweetened pumpkin, mochi balls, sweetened beans as well as
anko
, or sweet red bean paste.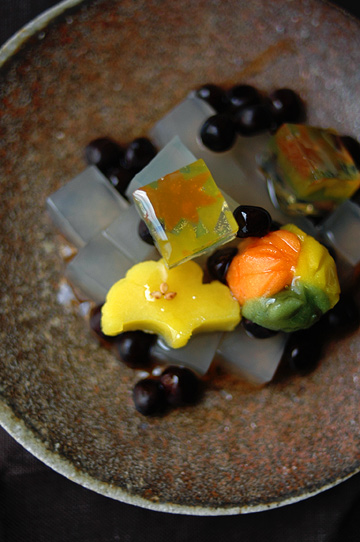 Theme for the other one was slightly more subtle; something like nature in autumn in Japan. The dessert itself is basically
Mitsumame
(there is a reference in
here
), with the toppings depicting some elements of nature of the season, in a form of autumn foliage (
maple
and
gingko
leaves).
Now I didn't get to make a survey on exactly how much of Japanese pastry shops now offered some Halloween-themed sweets, yet as far as more Western-influenced cake shops are concerned, it was everywhere. While many of them offered cakes and candies that featured pumpkins and came in Halloween-decorated packaging, some would sell a variety of desserts in adorable reusable ceramic cups of different shapes featuring pumpkin or ghosts, and one particular shop even had about ten different cups from a pumpkin carrying pumpkin pudding to a ghost filled with chocolate mousse. which I found was great.
While I
know
certain people simply bought all the variations (never ask what they might have done with what was inside the cups!), I picked one of a bogle that stands with legs and holding a mini pumpkin in his hand, which I thought was quite groovy. He originally had pumpkin napoleon in it (see the first photo of
this post
), but on the actual day of Halloween I went for something less complicated to fill him up - using pumpkin, none the less.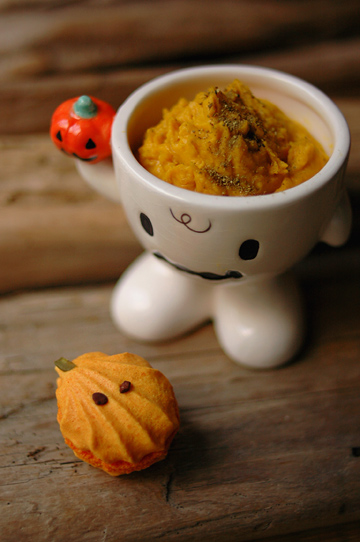 My original plan was to make it sort of like mont-blanc (while it is not the greatest resource on the web, you can get an idea of what it is like in one of my own posts
here
), I ended up with simply a spiky head... don't ask me why.
The cream, as you might have noticed, is made with pumpkin;
kabocha
pumpkin flesh cooked, pureed, and sweetened, then mixed with whipped cream and a dash of burbon. Beneath the spiky head are pieces of finger biscuits dipped in syrup made of bitter marmalade, burbon and water, and gently tossed in cream. Burbon here wasn't really to give a wisky flavor, but just to mask the vegetableness of pumpkin a bit. What really gave a character to the dessert was Szechuan pepper, used both in the pumpkin cream and to top it off; what I was after here was not red hot chilli heat, but more of clean, lemony tang, a twist that I think gave a pleasant surprise factor overall.
Now pumpkin is called
kabocha
in Japanese, which now also is the English term for this pumpkin variety. Almost all of cooking pumpkin we have here in Japan is this variety, and it is radically different from most other pumpkins or squashes, including those for lantern or pumpkin-pie pumpkins -
kabocha
is a green-skinned and yellowish orange-fleshed kind that is much smaller in size, much denser and sweeter in taste, and tastes much, much nicer if you ask me. As much as the flesh is tasty both in cooking and desserts, seeds are generally entirely neglected, chucked away without a second throught, which is what I, too, normally do.
Then this time, probably becaues it was for Halloween and maybe I had a couple of mini orange pumpkins for decoration, it somehow came through; when I was in Hawaii and made Jack-o-lanterns, we'd save the seeds (and there were a lot of them as the pumpkins were so huge) and salt and roast them in the oven while carving the pumpkin. And as simple as they were, they got me hooked; I have only had those freshly-roasted salted pumpkin seeds twice, as I have carved my own lantern only twice ever in my life.
Kabocha
pumpkins have thicker, rounder seeds than those of lantern pumpkins, yet I thought I might as well give it a try.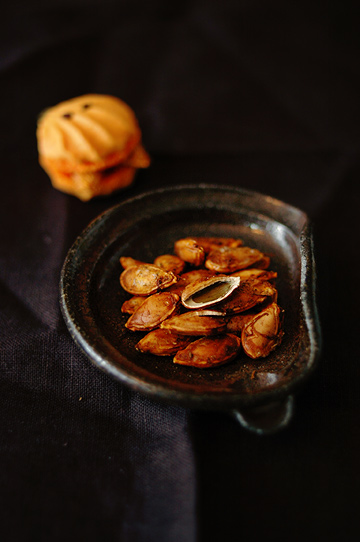 I could simply have roasted them with some salt only, as I did in the last two times, but keeping in line with the Pumpkin the Spiky Hair, I opted for
Shichimi
or Japanese seven-flavor spice mix that also includes Szechuan pepper. The seeds tasted fine, even if they might have been slightly overcooked and still quite hard to bite; it hasn't converted me into an I-swear-from-now-on-I-shall-always-roast-my-kabocha-pumpkin-seeds kind of girl, but it was fun to find out these seeds actually were edible. (Although, when I popped one into my mouth the following day, these had turned stale and too hard to bite. Note to self: never overdo the seeds
and
leave them overnight.)
And don't forget that little pumpkin monster that has been hovering around this post...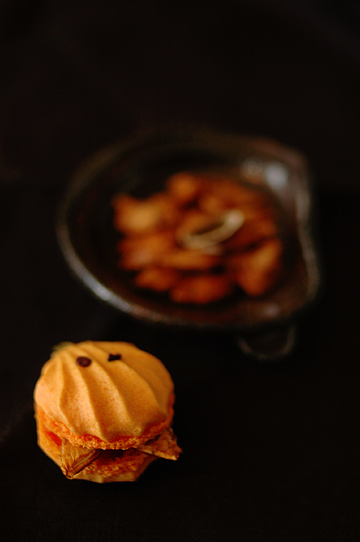 He actually was a pumpkin macaron from a French pastry shop, although I don't think he had fangs when I got him... must go back and check next year when they are around again.
Hope you all had good Halloween or Day of the Dead, or plain nice day!