After spending the whole summer
indulging myself in a bounty of fresh summer fruits
, I was still not quite ready for apples. Sure, I saw the season's first apples as early as mid August, but I like them the best in late fall, and usually pass up those early-autumn varieties. And quite frankly,
I wasn't done with summer fruits just yet
. After all, in just a few months there will be few fresh fruits available but apples at the stores, so why hurry now?
Yet last week or so at a local green market, I found something that intrigued me, and it happened to be apples.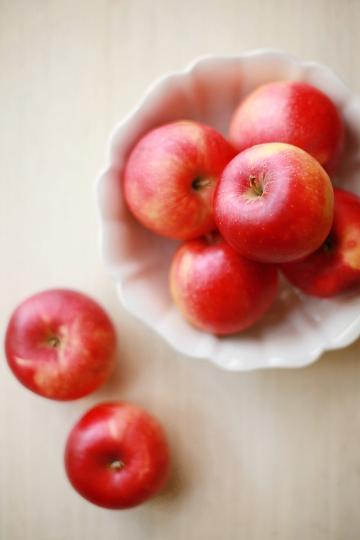 The tag read "Rose Husk", and according the leaflet that came with them, it is a variety of apples that smell like a rose. And sure enough, when I sniffed the lot of them, I did smell rose - or something close. They smelled like apples, of course, but there was definitely really sweet and floral note to it.
The leaflet suggested that you put one of those apples in a room or a car, as if they are a room/car fragrance. I could easily imagine that. What was more interesting to me was this little note that said "they are OK to eat"; what did they mean, exactly, by this? We guessed that they would be not inedible but not palatable, but not certain. Since nobody at the market could answer our question as they had never tried them either ("they are a new variety and just arrived today", they said), I decided to find it out by myself and took a case home with me.
And quick googling taught me that Rose Husk is a relatively new cultivar developed and marketed as ornamental apples, and perfectly edible raw - unlike, say, crab apples. That said, they weren't exactly tasty; let's just say I wouldn't bother to eat them raw, especially when there are plenty of other apples that taste great cooked or uncooked. Yes, "they are OK to eat". Precisely.
So our next question(s): would they taste good/better when cooked? And would they still smell like a rose when cooked? Would they make apple jam that smells like a rose?