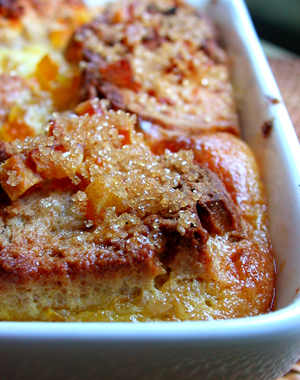 I messed up from the beginning. Well this is
marmalade bread and butter pudding
that I made on this past Easter Sunday, using
yuzu
marmalade and candied peel of
natsu-mikan
, or so-called Japanese summer orange, both of which my mom had made. It was delicious.
So what was wrong with it all?
Like I have said, I messed up from the beginning when I forgot that I had been going to make Hot Cross Buns, or sweet rolls traditionally and specifically served in the morning of Good Friday. When I realized it in the Thursday evening, I was exhausted from work and didn't have ingredients at hand. I had already run out of time, but I decided to make some anyways even if I wouldn't make it in time.
So I did try and make Hot Cross Buns dough in the following evening of Friday, casually hoping that I would at least be able to have a bite on "Friday" on a timezone of somewhere in the world, say, Hawaii, which is 19 hours behind that of Japan.
The plan didn't quite work. Not only did I fail to make it in time, but I actually never had Hot Cross Buns out of the oven - at least in the way they are supposed to be; the dough didn't rise in the first place, and it never did. Period. I don't know exactly what went wrong - maybe it was too cold in the kitchen, maybe I left the yeast to get formy a bit too long, or whatever. I felt too daunted to chuck the whole thing, but I was also too bummed to bring myself to carry through and make the fiasco look like Hot Cross Buns, so I shaped the dough into rolls and baked them, but skipped the cross part on the top.
The bread had barely risen when they were out of the oven, but managed to taste okay. As they were baking, I fished around to find a way to eat the buns in a more enjoyable way, and settled on the idea of using them in bread pudding; that way, stone-hard bread might be a little more palatable, I hoped. As I happened to use a
Delia Smith
recipe
for Hot Cross Buns and failed, I decided to have Delia make up for the failure and gave a try to her
recipe of bread pudding
(no, it wasn't really like that, I know, it wasn't her fault that it failed, me, loser).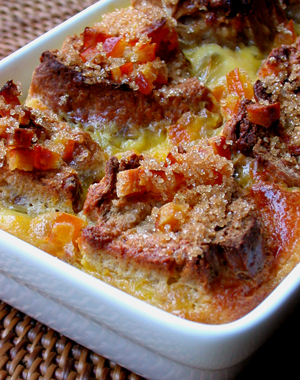 That's how the bread and butter pudding came out - it was, I repeat, delicious, hot out of the oven and served with a dollop of mascarpone cheese. In fact, it would have tasted even better if it hadn't been for the miserable failure of my bread-making attempt.
Now I have to wait another year to give it another try to make Hot Cross Buns.