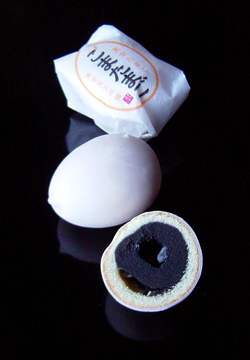 This has got nothing to do with Easter except that it is egg-shaped, which I think is a rason good enough for inclusion in a vaguely Easter-related post here. Named
goma-tamago
, or literary "black sesame egg", it is a light cake filled with sweet black sesame & bean curd and sweet, soft black sesame paste in the middle, and coated with white chocolate.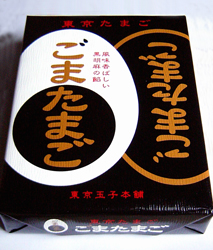 They are sold as a Tokyo souvenir and I wanted to try one of these when I saw them at a store, and I recently got a chance; I had to buy something from Tokyo for someone, so I bought two boxes - one for them, one for us.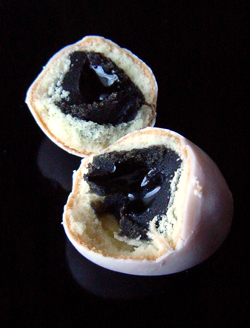 I had been expecting something like moist cake bearing soft and runny sesame paste inside, but what came out was a rather dry cake filled with thick sesame paste, coated with a super skinny layer of white chocolate. I wouldn't say it was all that disappointing, but just wasn't what I had thought it would be like.
It made me long for another sweet using black sesame, called
goma-suri dango
, a bite-size really soft mochi (rice cake) filled with super soft black sesame paste, manufactured and sold in Tohoku area (north of Japan). Hopefully I can get some and blog about them soon...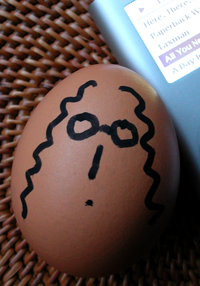 This isn't for hunting either