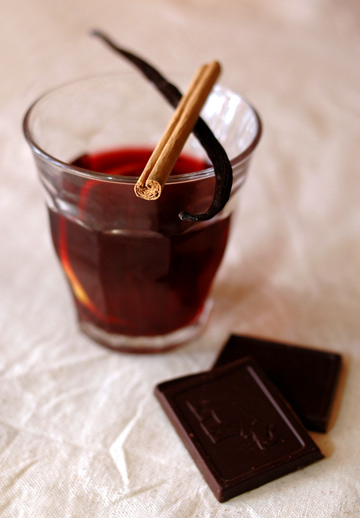 Chilly nights, I like nibbling small pieces of chocolate with a cup of hot, spicy mulled wine, enjoying the aroma of cacao, spices, and wine blending together. What if I put all together in one, I wondered, and so I tried.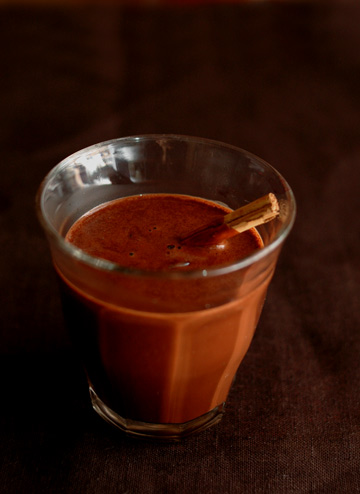 The idea of mulled wine hot chocolate came to my mind when I was thinking of making spiced hot chocolate that I found in
Chocolate Desserts by Pierre Herme
by Dorie Greenspan (Little, Brown, 2001). Some of Herme's hot choc recipes don't use milk or cream, really showcasing good quality chocolate and cocoa powder, and the one for spiced hot chocolate is one such recipe.
I simply replaced water with red wine, and when I test tasted it it tasted
really
bitter even to my taste which usually prefers bitter hot chocolate (and I had already tried his non-dairy hot chocolate recipes, which had been good). So I added a little bit of cream in the end, and everything fell into place, or so I felt. It was still a quite strong drink, and frankly, it wasn't something you'd drink in big gulps but was a sort of thing which would make you satisfied with a few sips out of it.
In fact, I had already tried the combo of chocolate and mulled wine before. Last year
I made Gluehweingugelhupf, or mulled wine cake
that features mulled wine, orange, and chocolate, and liked the combination together. Sadly, the recipe is no longer available online due to the website's shakeup, but I remember I liked it, so I wanted to do something of the same sort again. While preparing mulled wine hot chocolate, I thought, "well, it doesn't have to be
hot
chocolate that pairs with mulled wine, really".
So it came mulled wine
non-
hot chocolate, or mulled wine ganaches. It was a total coincidence that I found a recipe for spiced wine chocolate in a Japanese dessert book (whose title and author I can't remember right now, will follow when I do) at a bookstore. I took a mental note of the recipe and made one at home, loosely following the recipe. Bottom line is that you reduce red wine with some honey and a lemon slice, add spices and cream, followed by chopped bitter chocolate, and chill the mixture until set. The recipe also adds homemade honeyed ginger and store-bought candied orange peel, but I used store-bought crystallized ginger and peel of home-made candied kumquats, which were what I had at my hand.
Dusted with a plenty of cocoa powder, my small ganaches tasted fantastic; they were packed with things I love, and here they seemed to be in a perfect balance. For the whole time I was making, taking pictures of, and actually eating them, I was blessed with the seductive fragrance of mulled wine and chocolate. And I found it a bit funny but understandable that when we pop one into the mouth, it'd make us feel somewhat warmer even if the ganache itself was chilled; work of wine and spices, that is.