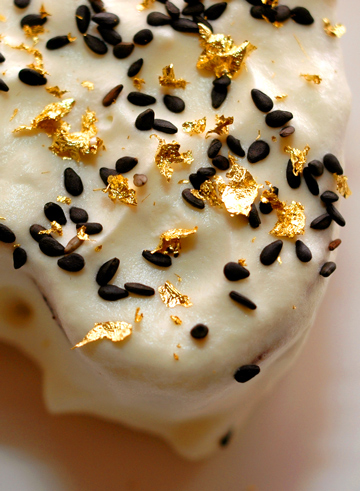 What cake would you bake to mark the new year's first? I chose this one, for one thing this features much Japanesey ingredients in a unique way (Japanese people like to celebrate
oshogatsu
, or a new year, with traditional Japanese things including food, attirement, and decorations), for another I wanted to make something looking pretty and festive. It's called Black Pearl Layer Cake, and you might see why it is called so - black sesame seeds representing black pearls, right?
But there is more than that. If you have ever tried or heard of Chicago-based chocolate shop
Vosges
' truffles or bars named Black Pearl, you know what's in it; wasabi and ginger.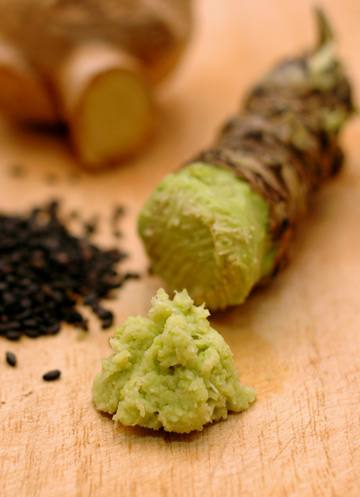 Now sesame, ginger, and wasabi are all what Japanese people would regard as traditional Japanese food ingredients, but not so much in sweets; sesame and ginger have been increasingly more favored flavors in sweets lately, but you won't usually find, or even expect, wasabi in sweet stuff. It's something you'd find in sushi, not in chocolate cake. No way.
So it came as a surprise when I first found Vosges' Black Pearl chocolate, but did indeed surprised me by how it tasted actually fine. In both
chocolate bar
and
truffle
I found a very subtle taste of wasabi or ginger, while black sesame were noticeable only because there were whole seeds. I would have liked them more pronounced, but still enjoyed the chocolate, and I was thrilled when Estelle of
le hamburger et le croissant
pointed me to the
recipe
featuring the same three flavors, created actually by none other than Katrina Markoff, owner of Vosges Chocolates. Thanks Estelle!
Fast forward 11 months, I finally got around to trying the recipe to make it the year's first bake. By the way, let's forget about
the sesame mousse that I made on January 1st
here; it wasn't
baked
, you know, so it wasn't eligible as the first cake of the new year that I
baked
. Got it?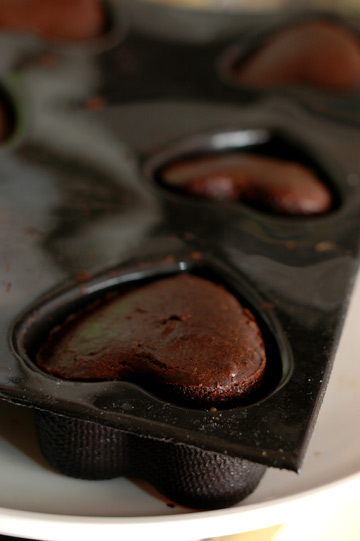 This cake was not complicated to make, but it certainly involves more than a few steps, requiring some time and commitment to put together. You will need to prepare ginger syrup using fresh ginger, then chop up the ginger to put in the chocolate cake batter. Meanwhile, you make ganache with wasabi, ginger, and black sesame seeds - so this is really what makes the cake named after Black Pearl chocolate. Lastly, you whip up heavy cream with added ground ginger, and assemble the cake. I made syrup, ganache, and cake in one night and did the rest on the following day.
Now there are a lot of comments of note from reviewers attached to the recipe. Many commented that the amount of wasabi indicated in the recipe wasn't enough for them to notice its flavor in the cake, and quite a few suggested that buttercream be used in place of the whipped-cream frosting, which seemed to be too light to match the dense chocolate cake and thick ganache. Speaking of ganache, it was said to have hardened up overnight, and some said that they reduced the amount of chocolate in the ganache.
I read all of these with much interest, and made some changes when it was my turn to make this cake. For my own records, I almost tripled the amount of wasabi in ganache, and grated a fresh one; have you ever seen real, fresh wasabi before? If not, the root-like thing with brown-green skin and mint-green flesh inside seen in the second picture of this post is a one. I also added a little juice of ginger, squeezed from grated fresh ginger root, to the ganache, hoping to underscore the flavor. Also, I used a little less chocolate in ganache to help avoid letting it harden up. Meanwhile, I reduced the amount of sugar almost down to half, as the cake seemed a little too sweet to my taste but there wasn't much room for me to cut the sugar other than the cake batter. And as you may have noticed, I made several mini heart-shaped cakes rather than making one large hunk, and made them two- instead of three-layer. I made only a quarter of the specified amount of the syrup and cake batter, while preparing one-third of ganache and frosting each.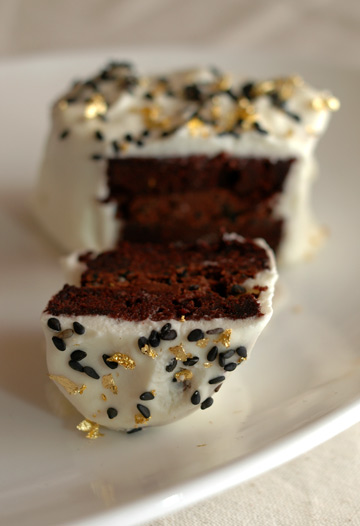 The biggest challenge to me here was finishing up the cakes; it's really not a task for me - I know I never get to make perfectly smooth surface like some do, so I had given up the idea from the beginning and instead went with a more "casual" ("rough" or "easier-to-accomplish", in other words) finishing. The cakes still looked pretty, especially with the addition of gold flakes on top (let's again forget that I had used the same trick in the mousse I made previously).
And how they tasted like? Well, I agreed with some reviews who claimed the frosting be a little to light compared to the cake and ganache. I had suspected that, too, but didn't feel like starting off the year's baking with buttercream, having made a pretty cake in which killer-sweet buttercream ruined the whole thing a week before. Besides, I prefer light and fluffy whipped-cream frosting than buttercream one, and I thought this one was yummy with a touch of ginger. So if I am to make this again, I'd make the cake and ganache lighter rather than making the frosting thicker. And oh, my ganache did harden up; I let it sit at room temperature, but the "room temperature" in the kitchen must have been as low as that in the fridge, which might have helped the ganache get hard.
Most importantly, I'd have to say that all of us who tried the cakes didn't really taste wasabi or ginger. I tried to make the ganache so that it was really wasabi-y and ginger-y, but when combined with everything else into the whole cake, the flavors got masked. I only found a trace of the spices as an aftertaste, but that was all. Come to think about it, it was exactly how Vosges' Black Pearl bar or truffle tasted like; ginger and wasabi were only slightly there, at an almost unidentifiable level. After all, that might be the whole intension of Vosges in developing the Black Pearl line, I suspect; wasabi and ginger were there only to add a subtle touch, literally spicing up the bittersweet chocolate cake and making you wonder what's in there. That's elegant, but nevertheless, I'd still increase the amount of wasabi, ginger, AND black sesame if I make this again - I'm not sure if I want to do the whole thing again, but I might try the wasabi-ginger-black sesame-chocolate combination in something else.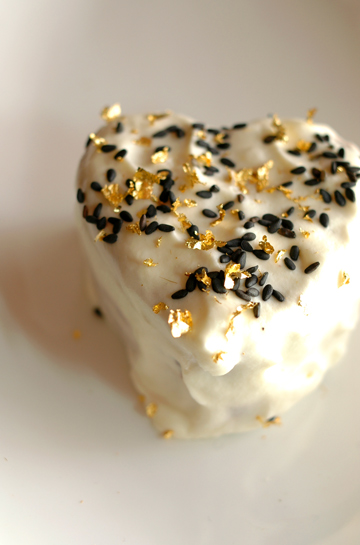 And by the way, I turned one cake upside down when transferring it onto a plate to take picture. It was the prettiest-looking one of the several cakes I made this time, oh well. Also, while preparing for this cake, I nearly dropped the bowl of ganache not once but twice; the first one almost got my camera (that would have been a disaster). Furthermore, I hit my little toe real hard when leaving the kitchen trying to answer the phone. Later in the day, I even cut myself with a tiny bit of broken glass, accidentally. What a day! But well, I must have undergone a year's worth of troubles in cake baking and won't have to have any more, or so I try to believe. Happy baking 2006, everyone!