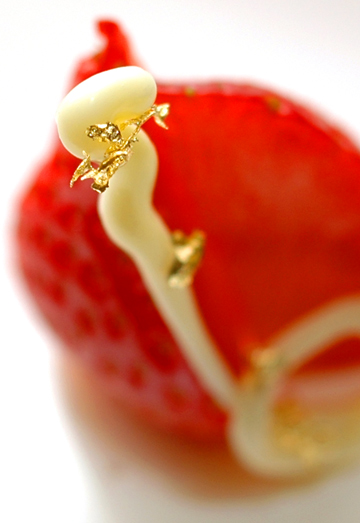 I wasn't planning to create any fancy sweet on the very first day of the new year, but somehow found myself working in the kitchen in the afternoon, putting together a few small afters for dinner.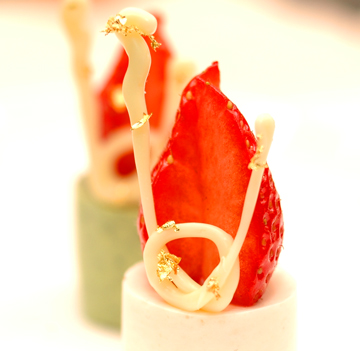 Rather fancy it may appear, this really was simple white sesame mousse, topped with strawberries and white-chocolate
mizuhiki
cord. For a second I was being a little ambitious, thiking about making layers of mousse of different flavors and/or decorating with chocolate sauce or something, but I dropped that idea before thinking twice; it seemed too much for a task to be done on the New Year's day - you're supposed to laze around, people.
Making okay-looking white chocolate
mizuhiki
was a bit of challenge, though. Considering me hopelessly being clumsy, these turned out good enough, I guess, and they sure looked festive with a few edible gold flakes.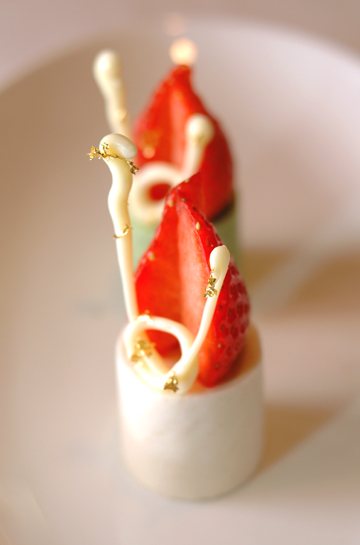 My new year's day has past eventless, and I will probably be working like normal from tomorrow on. But today I would like to wish every one of you a wonderful new year, and hope this year will see you all happy and healthy, full of love and smiles. Thanks for letting me share what I make, eat, and think with you here. Happy 2006!