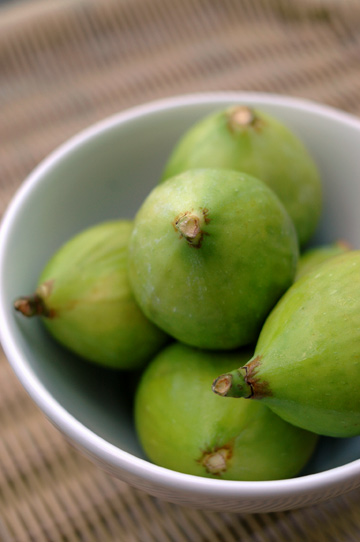 Last October, I was longing for the next end-of-summer-cum-early-autumn season to come, with
the season of whole lot of figs being just over
. I was supposed to have to wait for ten months or so, but magically, having spent just over four months and I was being blessed with crops of figs in the middle of winter - well, except it's precisely end of the summer and early autumn where I am. Thank goodness I'm in Australia.
What was even better is that my friend's husband got us a bagful of figs fresh out of his family's garden tree. They were those relatively small, green and thick skinned kind, which I haven't been particularly familiar with, and thus didn't have good idea of uses for. After some online search though, I settled down with a couple of recipes: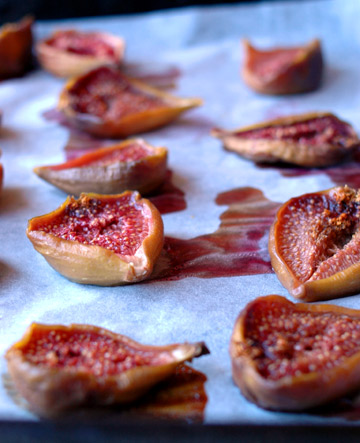 First off, I slow-baked fig halves in oven to make partially-dried figs. Then -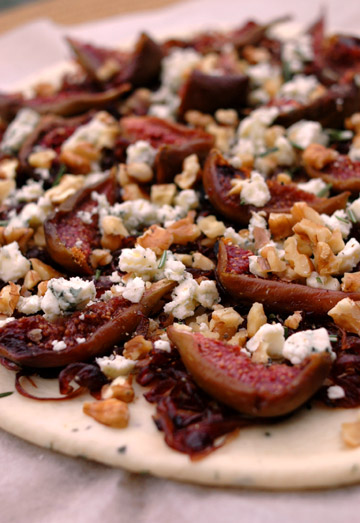 Arranged them on a focaccia bread dough with fresh rosemary (from garden!) along with caramelized red onions, blue cheese, and walnuts, and baked -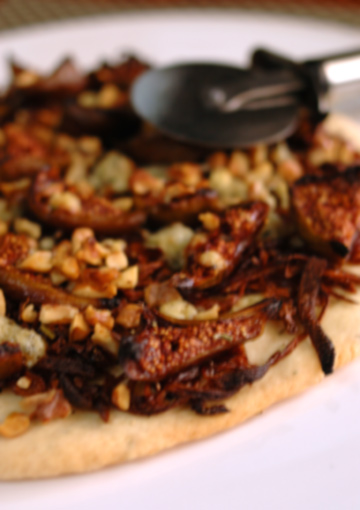 For fig pizza, or Flatbread with Oven-dried Figs, Caramelized Onions, and Blue Cheese. It was a sort of slow food, considering the procedures are slightly time-consuming (oven-drying figs, caramelizing onions, and making your own bread dough), but the results were lovely, with each of the flavors mingling all well. I wish we (my friend and I, that is) had made the dough better - neither of us are a real bread-maker and thus were stumbling, ended up with a tough dough that didn't rise enough. Even so, we ate the whole thing happily, and actually, some leftover dried figs tasted good with (leftover) blue cheese and walnut chunks, or even as is.
As we (deliberately) didn't use up the fresh figs, we put them into something else on another occasion: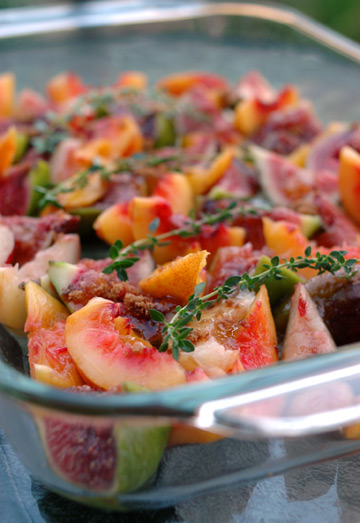 Figs and nectarines, along with some sweet wine, bit of sugar, and bit of honey over them, went into oven -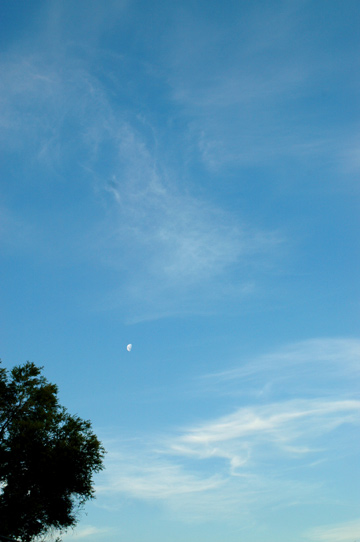 As the early evening moon shone in bright blue sky -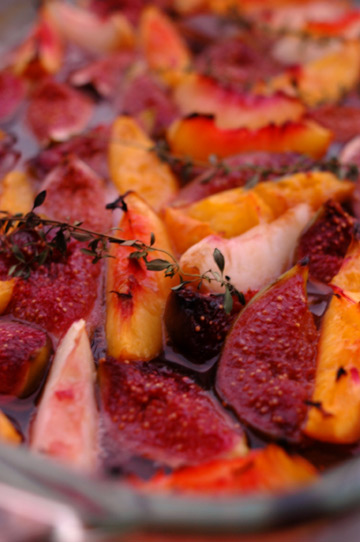 By the time the fruits were nicely roasted and wore burgundy color -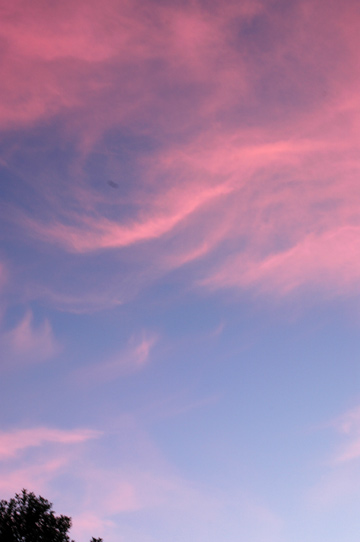 The the sky up there was also laced with pink clouds.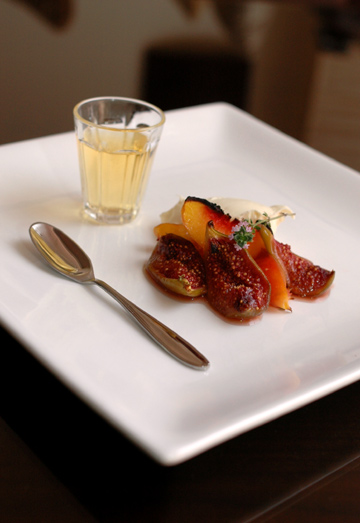 This was a very straightforward, simple fruit roast, whose concept was somewhere between
my all-time favorite roasted fruit salad
and
muscat wine-poached figs with spices
, I guess. So served with a good scoop of mascarpone cheese, this was a no-fail after diner treat, especially with a small (or large) sip of muscat wine itself that was used in the dessert.
Frankly, I had not been very fond of those green-skinned figs over purple- and amber-colored kinds, as I thought the green ones tasted rather bland. But these particular ones were really ripe and had very concentrated sweetness, which made them taste brilliant both fresh and cooked. Probably because I seemed
so
excited with the figs, they got me another bunch of figs from the trees ("there are a lot and if we don't eat them, birds will", he offered). Now I had a delicious excuse to try one more green-skinned fig recipe that I had had my eyes on: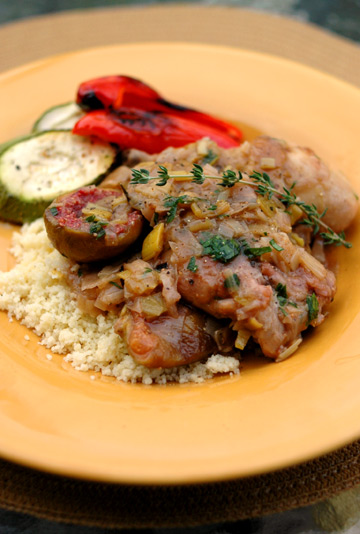 Chicken braised with figs and leeks, served with couscous. This dish uses a whole lot of leeks, and although less visible, Italian parsleys. The result was something we hadn't really expected; there was somehow a sweet and pungent aroma, reminiscent of that of cinnamon or cloves, although there was no spice other than black pepper. There was something middle-eastern or mediterranean in it - our guess was that it was the work of the combination of sweet figs, also sweet leeks, and loads of parsleys.
All these recipes I tried this time happen to be from the single source: an article by
Joanne Weir
in
Cooking Light Magazine
August 2004 issue, available online
here
. There are a couple of other recipes that I want to try calling for purple figs, and I know I will be able to try them in the next autumn, which should be in a matter of five or six months rather than ten. Lucky me.