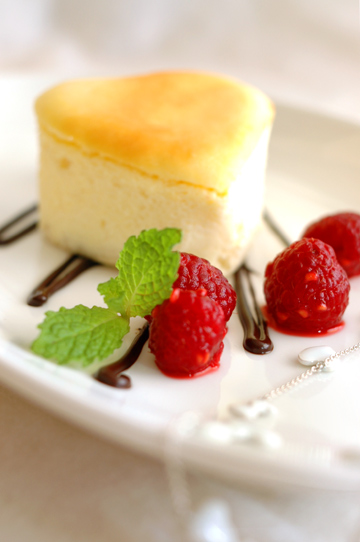 June 7th is my sister Yuka's birthday. When I ask her what she'd want for birthday cake, she'd usually request cheesecake, and that was exactly the case last year - I made her some ultra-rich and cheesey New York cheesecake (I didn't do a post about it here, but you can see some photos in my Japanese blog
here
). This year, she happened to fancy something
a little
different, which happened to be a little time-consuming for me to whip up on the very day today - so I ended up making something else that I had wanted to try, which happened to be cheesecake.
It's called East End Cheesecake, a
recipe
by Dan Lepard that my friend and great baker Naoko has
tried
a little while ago for her own birthday. It's got extra-thick double cream in both the crust and the filling and is thus meant to be rich, but it turned out to be a moist but not so heavy, probably thanks to the addition of a firmly whipped egg white.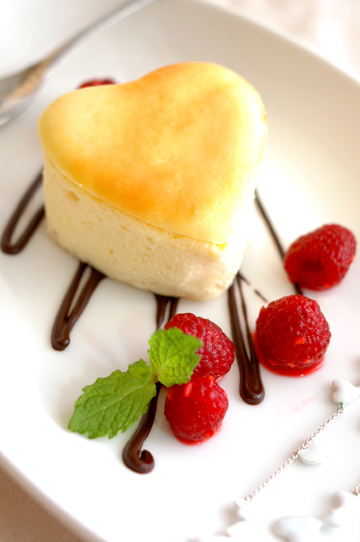 I baked the cake in individual-sized heart shapes, and served them with quick raspberry compote, which was basically fresh raspberries tossed with a mixture of pureed raspberries and a bit of late-harvest Riesling. For drawing lines on the plate I used 75% dark chocolate from a New York chocolatier
Vere
, about which I should be doing a post sometime within the coming weeks.
I'm just so partial to rich and heavy New York cheesecake, but this one sure was a nice change on a slightly lighter side. I was also pleased to see it get a nod from the cheesecake-sucker; it wasn't meant to be her birthday cake, but it's always good idea to keep our birthday girl happy, I suppose.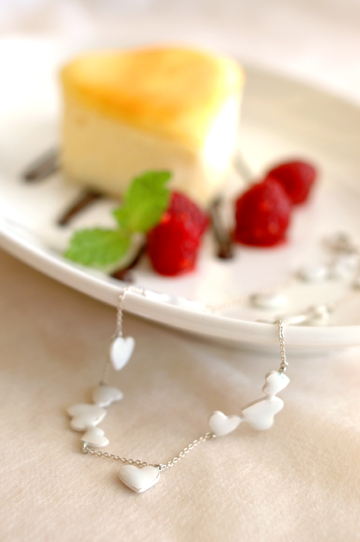 By the way, the happy b-day girl happily cooperated with me for today's photo shooting session; the white hearts necklace appearing along with the white heart cheesecake is a work of
my sister, who is an independent jewelry desginer/artist
. Those tiny enameled silver hearts have made a motif in a number of her works including earings and bracelets, and they are always my favorites amongst
her other beautiful creations
. She's a devoted artisan, occasional surfer, loving wife and many other things to boot... but to me she's a cool sister and great friend whom I am proud of. Here're my best wishes for her ever successful year - Happy Birthday Yuka, good luck with everything... if you're lucky enough, you'll get a "proper" birthday cake this weekend.