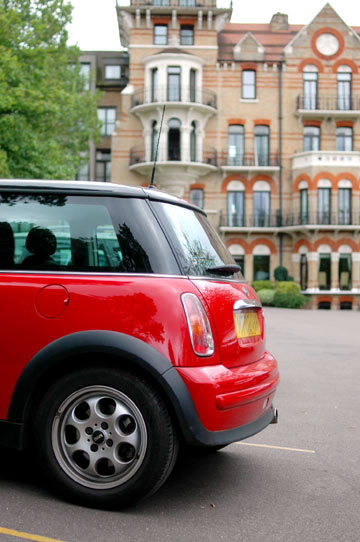 I've had several memorable meals for various memorable reasons, and the dinner we had in one Thursday evening of April 2004 is definitely one of them. It was a chilly early spring day in London, and there were six of us at table in a nice and cozy atmosphere, celebrating the wedding of the newlyweds, who happen to be two of the most important persons for us: my sister and her husband. The fact that it was a very intimate, family-only small wedding dinner was special enough to make the dinner memorable, but the surrounding factors - the restaurant, the food, the drink, the view, the service and everything - were just as impressive, and we still talk about it all very fondly.
And that was at a restaurant at
The Petersham
, a relatively small, some 130-year old hotel up on Richmond Hill, the Southwest suburb of London, looking over the River Thames. Two years ago we took a short taxi ride from Richmond station, but this past July, I went back there in a red Mini that my friend drove across the huge Richmond Park.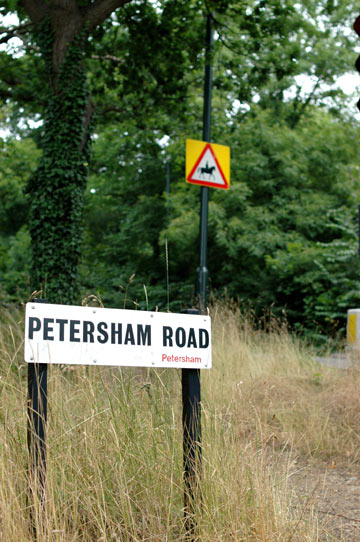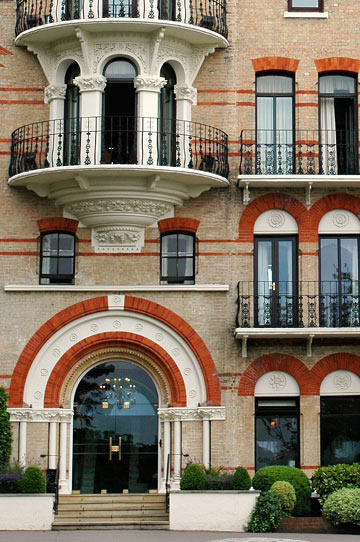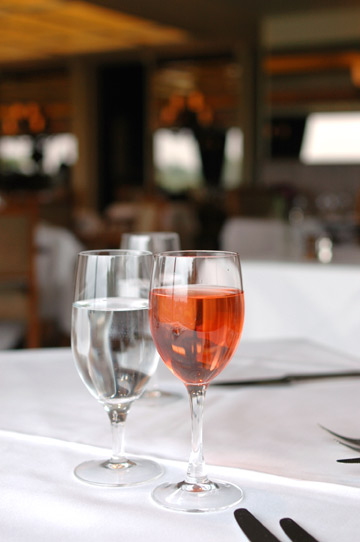 We hadn't booked a table, but that was no problem, as it was a very quiet day for them, with the British Tennis Championships just over in Wimbledon, which is just down the road. We were the first lunch guests of the day, and the staff seemed quite relaxed, enjoying their first slow day after some hectic weeks.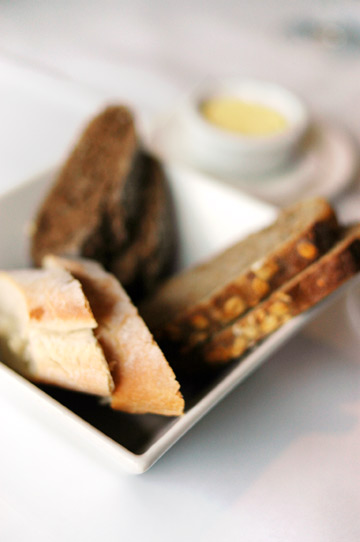 At the family wedding dinner two years back, we were offered a quite extensive wine list and shared a bottle of Krug (
the
best champagne around, in my book) and another of a very impressive Bourgogne white. But today, since it was at lunchtime and wasn't that special an occasion, I just settled with a nice, light glass of Rose while my friend stayed absolutely clear-headed, as she was the driver. How fair was that?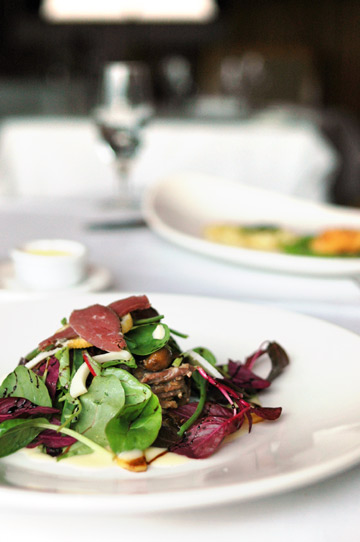 As we tried hard not to stuff ourselves up with the nice and crisp bread (served still warm), our starters arrived, without failing to dazzle the hungry girls (we hadn't had breakfast!).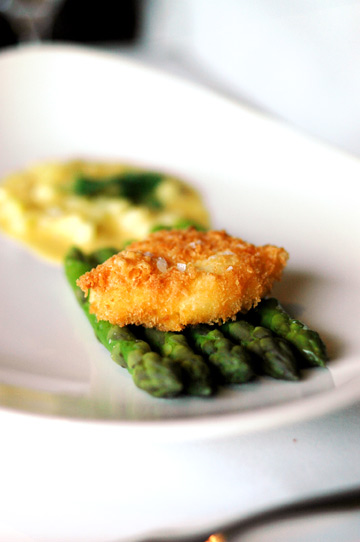 Hers was English Asparagus - Leek and cucumber butter, deep fried poached egg. The asparagus was perfectly done (no soggy stuff please), and the sides were good, too - neither of us had ever had or heard of
fried
poached egg!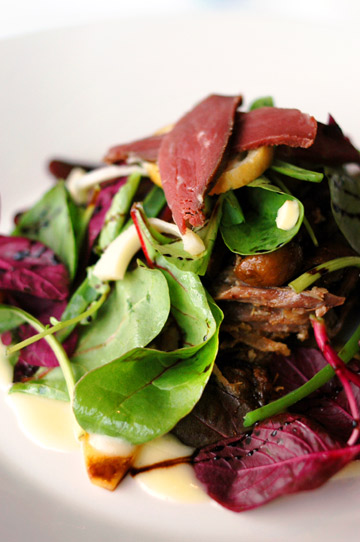 Mine: Duck Salad - Ceps and apple. Whenever I see a duck dish on the menu, I tend to go for it - how could I not have, especially when it had porcini mushrooms and apple, too! Sweet and meaty chunks of grazed duck were hidden beneath the fresh and crisp greens, accompanied by also sweet, cooked apple and porcini pieces.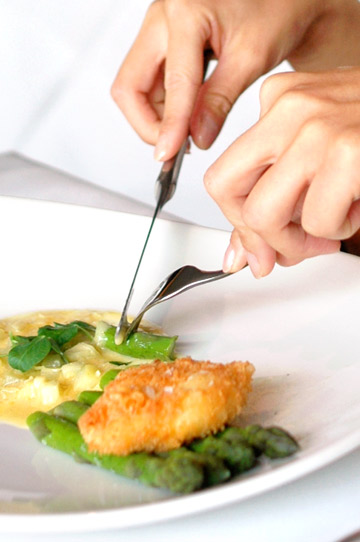 We thought the portions were generous, and to be frank, I would have been quite happy with the salad along with the bread and call it a lunch.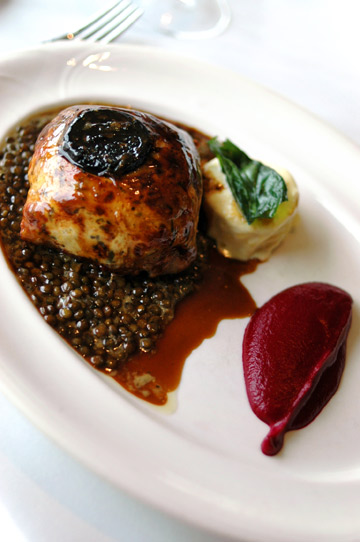 Yet our main dishes came nevertheless, grandly, dignifiedly.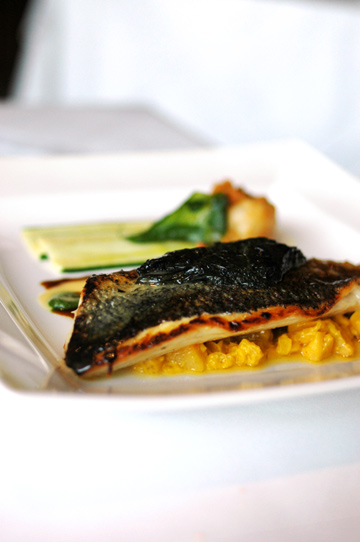 Hers: Baked Seabass with Seaweed - Fried oyster, crushed celeriac with saffron. The presentation was impressive, the fish was lovely. The seaweed condiment gave it a bit of Japanese edge we thought, but the taste was very well balanced overall except, to us at least, the portion was a bit too large.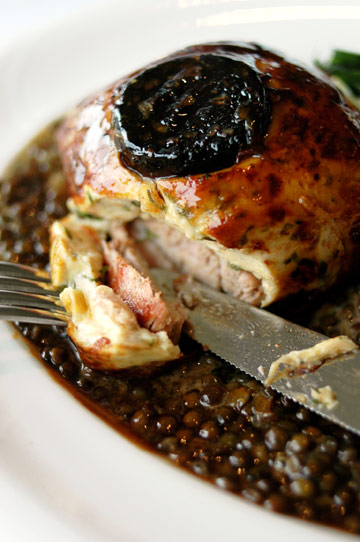 My main dish came even larger and heavier: Pork en Crepinette - Fois gras mousseline, beetroot puree & puy lentils. Here the pork was wrapped in what seemed like a fluffy, almost omlette-like thing, which I fount later was actually meat fat. I liked the way how pork was done, and the beetroot puree and lentils were both very nice, but oh boy, what a size!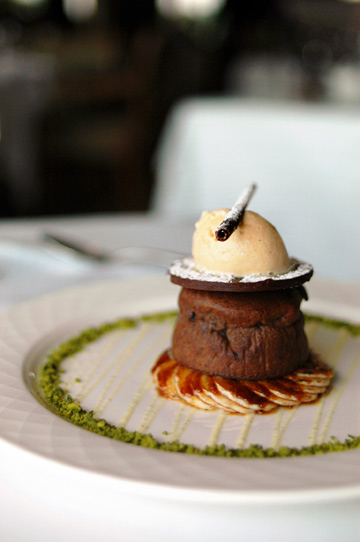 Then again, it somehow didn't occur to our mind to skip dessert. My friend ordered a staff recommendation: Chocolate Moelleux - Caramelised banana and ice cream. Again it was totally picture-perfect, and the combination of warm chocolate cake and cold ice cream was too good to miss out anyway, yes even to our already near-exploding stomachs.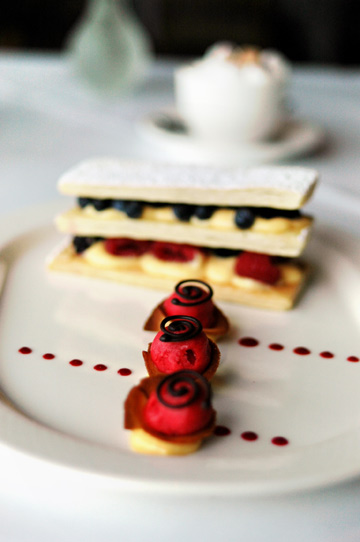 I had Mille Feuille of Citrus Cream - Fresh berries. A thinner, crispier, browner puff pastry would have been to my taste, but the citrus cream and berries were nice, and those tiny scoops of raspberry sorbet on paper-thin cookies were very palatable and refreshing.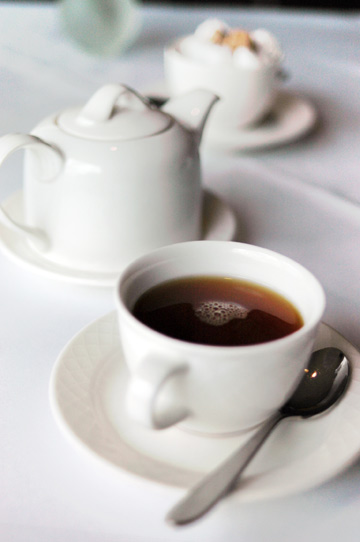 We capped the grand lunch with coffee and tea, respectively, totally satisfied - may be too much so. While struggling with our large dishes, I was trying to remember how it had been like two years before, and sure we had been stuffed back then, too. As far as I am concerned, London meals are all quite overpriced for what they serve (don't get me too wrong, I think this way maybe because the UK is an expensive country in every aspect whereas we get decently good meals at smaller costs here in Japan), but this place seems to be doing an excellent job; really good food served in a nice, relaxed atmosphere. If I lived in the neighborhood, I would still not come to eat here every weekend, but would definitely consider this place for any special occasion; and it shouldn't even have to be as special as a wedding dinner, really.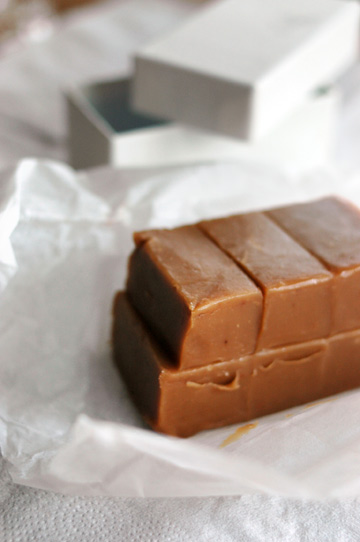 As we paid and got to our feet, they gave us small boxes of nougat, probably home-made. Both of us were too full to take a bite of it right away - in fact, we couldn't really eat anything the rest of the day - but we thought it nice of them, nevertheless. Last time, my family and I had left the restaurant with a totally pleasant memory. And now, I went back to the place with an ever-growing expectation, and they didn't fail me. As we left the hotel, the only thing that crossed my mind was, well,
oh my goodness, when my sister finds out that only
I
have eaten here again, she'll be so jealous!
Which she was, naturally, so rightly. Oh well, another perfect excuse for me to come back! We'd just have to make sure we'd arrive there super-hungry.