in a spirit of
hinamatsuri
, or Japanese Girls' Day festival...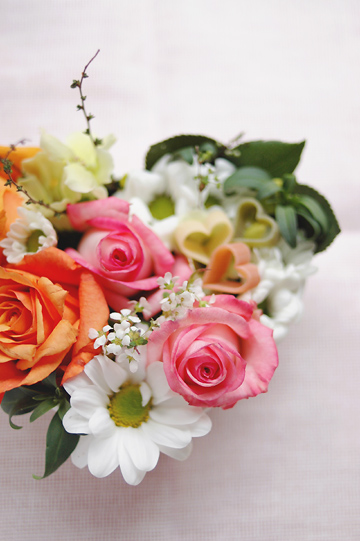 My March 3rd this year came and went without
hinamatsuri
dolls put out, or
chirashi-zushi
eaten. Instead, I opted for something a lot more casual and yet with a festive, girlie, and springlike touch... or so I tried at least.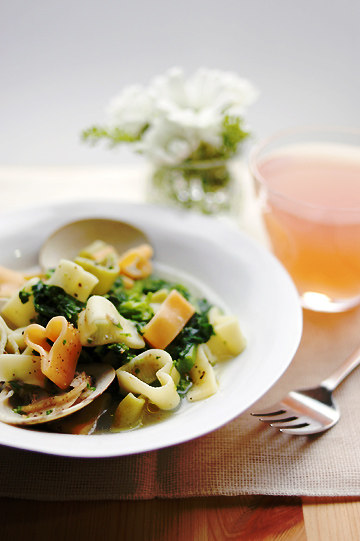 Hinamatsuri Hearts: it really is just a pasta dish that has
hamaguri
(kind of large clams) and
nanohana
(rapeseed slightly bitter, chard-like green of which young buds, leaves, and stems are edible; kind of rapeseed), both of which frequently appears in hinamatsuri dishes as in-season ingredients. I cooked my clams in olive oil with garlic and chili pepper, and then with some sake (Japanese rice wine) and water added, as the greens boiled up along with the pasta, thrown into the pot a few minutes before pasta was to be done.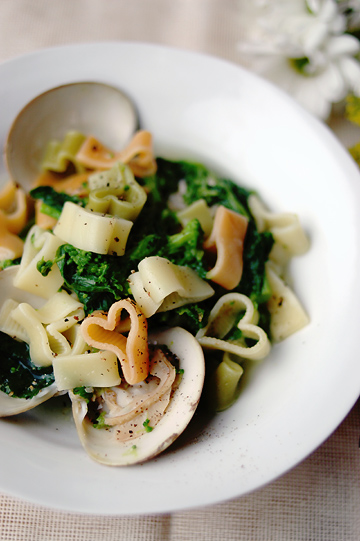 I added more hot water to the cooking juice than I would normally do, to make the dish a bit soupy (but not too much) as I thought it might go better with pasta like this.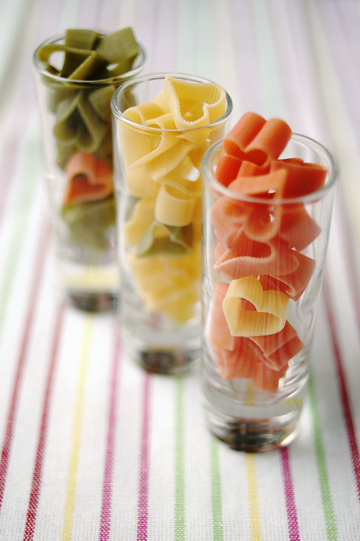 The dish tasted fine, although I have to admit that these hearts look way prettier uncooked!
Gone down alongside the hearts was...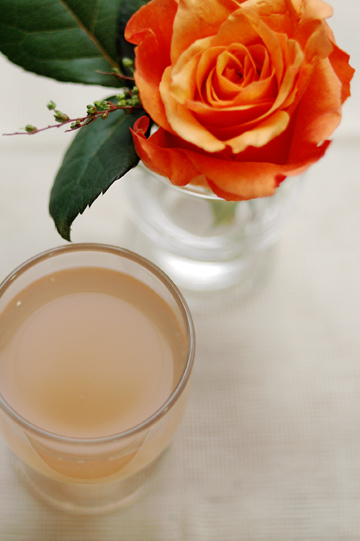 Fizzy Peach Green Tea: one part each of 100% peach juice, mild green tea (not matcha), and sparkling wine. Together, bubbly and peach are known to make one of the most exquisite drinks in the world, but fresh peaches are out of season at the moment, and I wanted something that is even lighter with a bit of Japanese flavor - although the green tea here is really subtle you might not recognize it right away. I used a rose this time to add a modest pink shade, but you can simply use a white.
And no Girls' Day meal could be complete without a dessert to cap it up, right?
Strawberry and White Chocolate Parfait: a layer of fresh strawberry chunks scented with rose, frozen strawberry and white chocolate cream, and broken macaron pieces. My strawberries were first marinated in rose cordial, then (with some reserved for topping) mixed with melted white chocolate and heavy cream in a blender before going into the freezer, although I would have churned it in an ice-cream machine if I had one. It tasted rather nice, but then again there is little chance that you can go wrong with the combination of strawberries and white chocolate!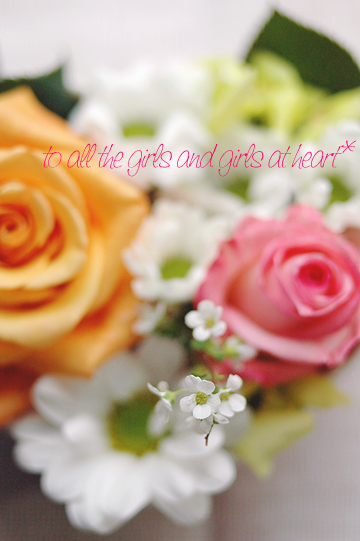 Other than this little festive-minded lunch, we did nothing to properly celebrate the day, but at least us girls in the house ate, drank, and laughed happily... and just what the doctor ordered, days are getting longer and air warmer; past Girls' Day, spring is around the corner.