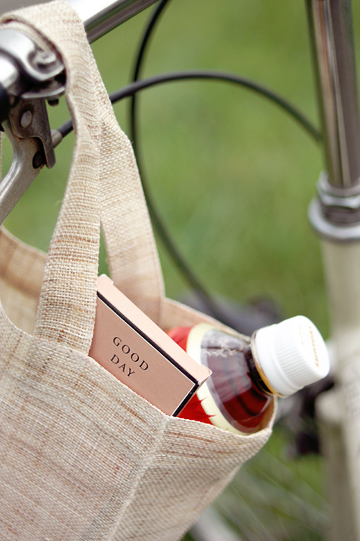 There are several things that really tell me that autumn is truly, definitely, absolutely here. A newly crisp and dry air is one of them that are most welcome, of course. The day that gets shorter day by day is another, albeit not so welcome. You can't miss, either, that the store shelves are now dominated by such fruits as
figs
and
nashi
(Asian pears), and more and more of pears and apples, while new potatoes and other root vegetables are popping up on the vegetable aisle. And not as obvious as these to some, but just as substantial to me, is, the return of my crave for chocolate. Welcome back, my love - I missed you.
Well, I can't honestly say that I missed not eating chocolate during the hot and sticky summer, but I did miss the feeling of missing chocolate (am I making sense?). But now that the summer is long gone and it is no longer too hot and humid to have chocolate, it is as if I am making up for the time during which chocolate was missing in my life, by celebrating it all day long...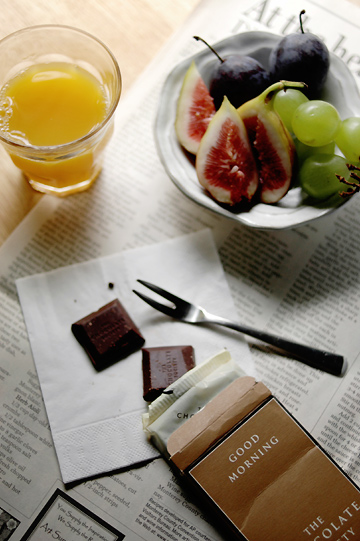 Starting the
morning
with fresh fruits of the season and a glass of orange juice to kick off the day;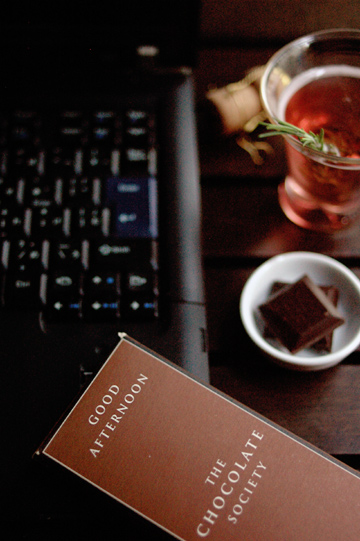 Taking a break from work for a glass of sparkling rose with a sprig of rosemary for a change in the
afternoon
;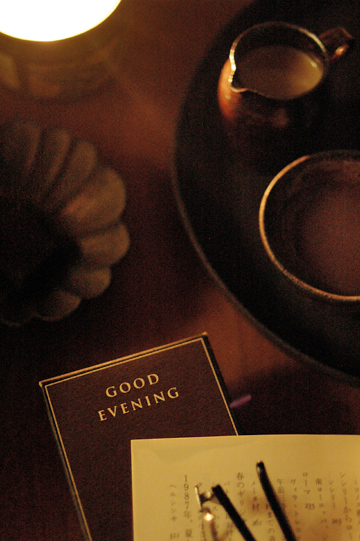 ...And spending an
evening
winding down over a collection of travel essays over a strong cup of coffee with Bailey's.
Now, for the record, my typical days do NOT go like this, really, but I wish they would. But one thing that they DO see is me who don't mind eating chocolate any time of the day. And this is a lovely collection of bitter chocolate so wittily named
Time of the Day Bars
that I received from London (Thanks! x). The three bars do have different characters, with the Good Morning bar being fruitiest and the Good Evening boldest, while the Good Afternoon is on a milder side.
While I love dark chocolate and enjoyed them all, if it is not your 'cup of tea' (or 'bar of chocolate'?), don't worry; there is something else...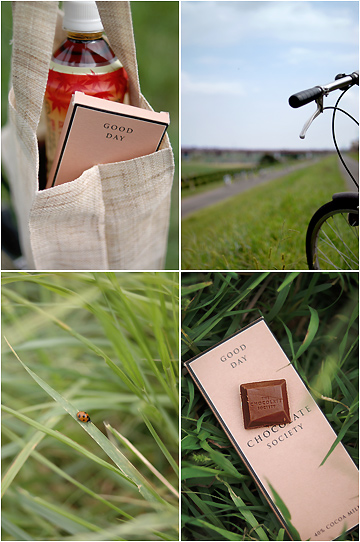 This mellow milk chocolate bar will surely help you go through your day, making it a
Good Day
indeed!
As I try and catch every chance (and/or excuse) to have a piece or two of chocolate, I know this month is going to be filled with chocolate. In fact, this blog was on the verge of turning into an ice-cream blog over
the
past
few
months
, but I've got the feeling that it may now be transforming into a chocolate blog... well, we'll see.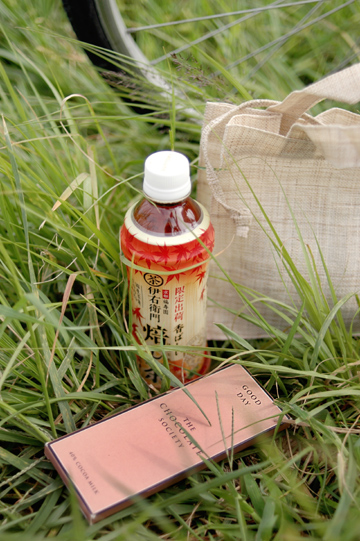 Good Day to you all! -c x