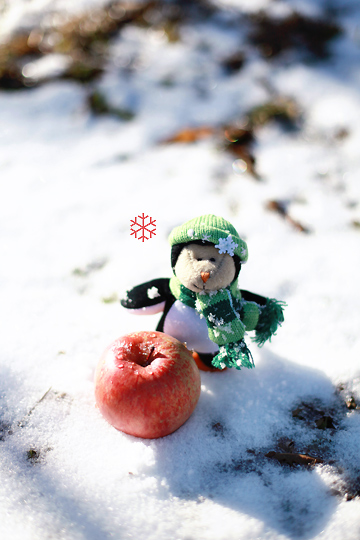 Warmest wishes from the cold but sunny and gorgeous mountain country Nagano - hope you are having a wonderful time.
It's already Christmas Day here in Japan. I haven't been able to do much for this Christmas, but if I tell you the truth, I've already have my Christmas present for this year - the
wonderful few days in a festive Copenhagen
in early December.
But I wanted to do at least some Christmas baking, and I've made some last-minute effort in the last couple of days. I've baked fruit cake (this year I used
this recipe
- easy!), and made semifreddo Christmas puddings, which is basically Christmas pudding-flavored ice cream; lightly spiced vanilla ice cream studded with dried fruits and nuts (recipe from
donna hay magazine
, 2009 Christmas issue). It is going to be served with shaved white chocolate and brandy syrup, and as I tried small (yes, small) bowlful last night, it tasted lovely. If I can, I'd also like to bake spiced shortbread cookies, also from the same DH magazine issue - but that will depend on how much work I have today (yes, it is a regular work day here in Japan!). And now I'm whipping up some apple Dutch Baby pancakes for breakfast/lunch. I use a recipe mostly based on
this one
, and although this makes lovely breakfast anytime in the apple season, I think it will be perfect for Christmas Day morning.
So I'm going now, but am leaving a little winter story with you to view if you have a few minutes to spare -
here
.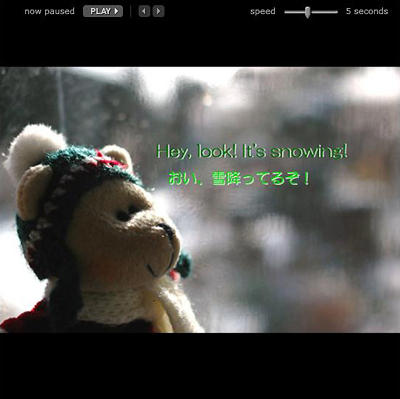 It is a piece I made several years ago, also while in Nagano. We are not having a White Christmas this year - we've had some snow last week, but all gone by now. But hey ho...
Merry Christmas and Happy Holidays to you all! -c xoxo