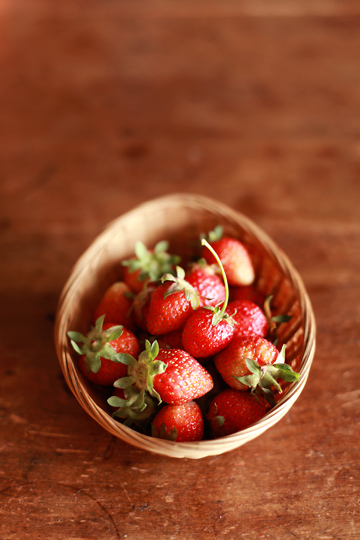 This year's crop of strawberries from a tiny corner of the vegetable patches at my mother's in Nagano; irregular in size and shape, but aren't they so adorable?
In Tokyo, "new season" strawberries these days hit the store shelves at the end of November. Yes, you read it right:
November
. They seem to arrive earlier and earlier every year, and now they are "at their peak" in late December to February, then start to disappear slowly until there are only a few punnets of them seen at the fresh produce section of the stores, which would be around late April. By mid May or so, you don't really see them much - and even when you do, they somewhat lack an appeal; compared to all the typically large and plump, glamorous berries you earlier in the season, strawberries in May just don't attract my attention. Maybe it's just me, but still.
But up in the high-altitude countryside just about (give or take) 100 miles north of Tokyo, things can be different. Here I was happy to find fresh strawberries, still holding their place at the stores, and most of them locally-grown (i.e. in the Prefecture of Nagano). They are often small and may not be sweet like candy but are pleasantly sweet with a hint of tartness, making them perfect for snacking.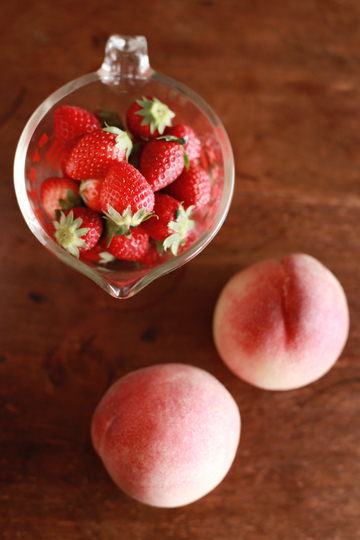 That strawberries are around till late (or later than they usually are in Tokyo) means you can have them with other early-summer fruits, like peaches. I have always thought strawberries should go well with peaches, but in Tokyo, by the time many stone fruits arrive, (good) strawberries would mostly be gone. So I was excited to be able to come home with both strawberries and peaches, even though the latter might have been a bit too early in the season (they are in their prime in July and August).
And there was another thing (or two) that made me really happy in Nagano: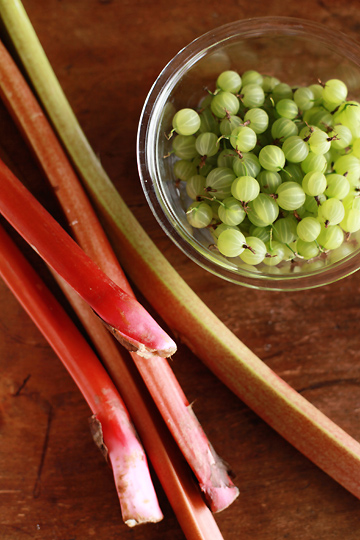 Rhubarb! It's a true hard-to-find item in Tokyo (and probably most part of Japan), and one that you see is mostly, if not always, imported.
And
very expensive. And Nagano happens to be one of the few rhubarb producer in the country, perhaps even the largest of them; starting in late May or so, you can find handsome stalks of rhubarb at some of well-stocked supermarket, and increasingly more so at small "farmer's markets" (stores that carry produce delivered directly from local farmers).
As for gooseberries, they are even harder to come by in Tokyo; the only time I've ever seen them, it was in the dead of winter, imported all the way from New Zealand. A few years back I had a big longing for these tart green berries, and a blogger friend of mine remembered that and sent me a box of them in the following summer, from the northernmost part of the main island of Japan where she lived (and still lives); I've heard that gooseberries are relatively common in the cooler northern part of the country. They are around only for a short period of time, and this was my first time ever seeing them in Nagano. Imagine my excitement when I found them this past weekend when we were out shopping.
So that day, I came home with two large bunches of rhubarb, a couple of peaches, two packs each of strawberries and gooseberries, and a pack each of dark and pink cherries, thinking about what I would do with them.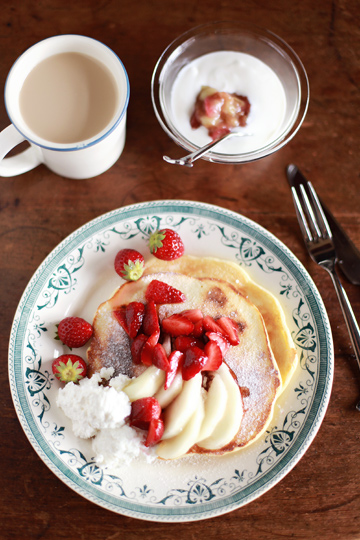 And this is what appeared on the table in the following morning on Monday; ricotta pancakes with strawberries and peaches - along with a simple rhubarb and gooseberry preserve to top yogurt (home-made, by the way, courtesy of my mother).
To celebrate the sweet and succulent early summer fruits, I wanted something really light and simple to go with them, more on the fluffy side than the crunchy or crisp. This led me to pancakes rather than my usual picks like crumbles and scones. Fluffy pancakes served with juicy fruits, don't they sound perfect together?
Well, perfect if not for one major problem: I'm hopeless at making pancakes. Or anything that's made on a skillet/griddle/frying pan, as I
rambled on a few months back
. But my determination to have fluffy pancakes and fruits for breakfast was strong enough to give me a kick in the back and make me pick up a pan for once.
And how did my ambitious breakfast project fare? Well, sadly not too well.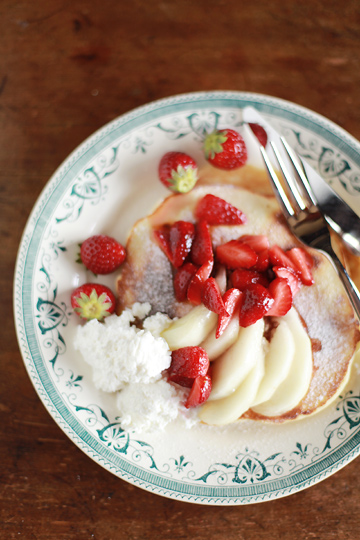 I fried six or seven pancakes and none came out of the pan looking as good as I had wished for them to. I almost decided not to mention the recipe I used, out of fear you might compare my humble specimens to their textbook-perfect pancakes (ugh), but I am anyways, because the
recipe
did produce truly light and fluffy pancakes.
I'd looked up several different recipes online for ricotta pancakes, and many seemed to be similar in that they tell you to separate eggs and whip the whites, and to add lemon to the batter. Although my pancakes failed to look pretty, they still turn out light and fluffy to my great excitement, and a hint of lemon was just what you'd need to perk up the barely-sweet cakes.
Here, a heap of fresh strawberries (some cut and tossed in sugar and Kirsch, some simply cut, and yet some more left whole) and a few slices of a white peach complemented the light-as-air pancakes beautifully, just as I'd hoped. I also served a spoonful or so of ricotta cheese alongside, which added a subtle tang to my fluffy and juicy breakfast plate. Together with a finishing touch of confectioner's sugar on top, all these topping also served to cover up most of my less-than-perfect pancakes, helping them manage to look OK-ish (I think). So I consider my effort and courage as having been paid off.
So all things considered, I was pretty happy with myself, I must say, and as I fed myself with more of fresh strawberries, I was reminded that it was the first day of the
Wimbledon Championships
...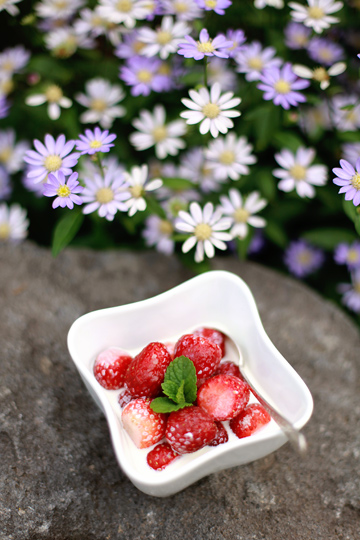 For many years I have been an on-and-off tennis fan, but Wimbledon holds a special place in my heart, especially since
my first ever visit to the ground back in 2006
. I had to miss all the matches that day due to the rain and my lack of time, but at least I didn't miss a few of Wimbledon staples: Strawberries and Cream and Champagne!
So with my mind adrift over the far land of England, I treated myself to a cup of Strawberries and Cream, which essentially is
just fresh strawberries tossed in sugar and served with a pour of cream
. I chose to add a dash of Kirsch to the berries (well, I was out of Champagne or any booze, so had to somehow make up for the lack of alcohol, you know) but otherwise left it simple, just as it should be. Only thing was, I used heavy cream (with a fat content of 35%) rather than single cream (18-20%) that they use for this dessert in England, thus my version ended up tasting heavier than the real stuff.
Other than that, it was as close as I could get to Wimbledon - and maybe a few hours spent in front of TV at odd hours. Hopefully with a glass of Champagne in my hand, even. I love early summer nights.