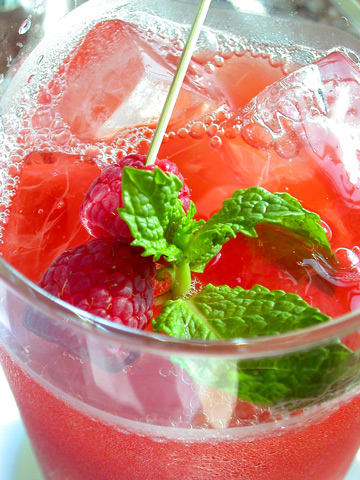 While
Clement
was busy doing fabulous write-ups (starting from
here
) for
the July edition of IMBB with the theme of Tea
, I had a chance to have afternoon tea at an upscale hotel
Park Hyatt Tokyo
earlier this month. I had eaten at one of the restaurants of the towering hotel in the midst of metropolitan skyscrapers ages ago, but it was my first time having a seat at
The Peak Lounge
rising up at the 41st floor.
On that scorching hot day in one weekend, my friend N and I arrived a little late for our 2 o'clock reservation. The place wasn't all the way full, but quite a few people were there enjoying their drinks and treats.
Our table wasn't by the window which was a bit shame, but we didn't care that much - after all, we were there to have tea in front of us and not the hazy sky outside. And we weren't even eating with a date looking down the beautiful night view.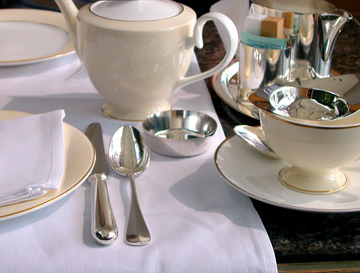 Soon after we were seated, our tea sets came. Their afternoon tea menu includes a selection of hot and iced teas accompanied by scones with jam and cream, finger sandwiches, and assorted small pastries, as well as small bites taken from trays. We knew this was going to be a big "tea" so we made it our lunch-cum-tea. (In my case, actually, this was my "breakfast" of the day as I hadn't eaten much before I came.)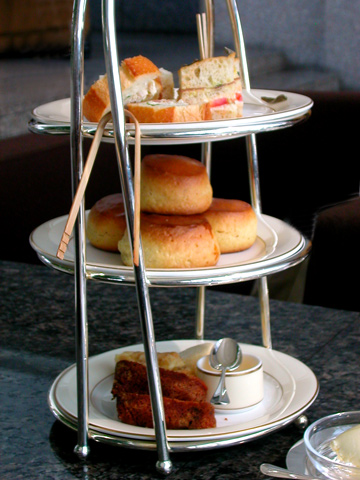 Now there are quite a few places where you can have this sort of afternoon tea in Tokyo, and what particularly draw my attention with Park Hyatt tea was that you can have as many kinds of teas on the menu as you want; they serve six different kinds of hot teas and four kinds of iced tea drinks, and you can try all of them if you want to. It's not unusual for a tea room to serve you a bottomless cup of tea, but maybe not bottomless pots of multiple kinds of teas - so we were really excited about it.
Now we began with our first pot of the day; a tea called Rock Wood from Sri Lanka for N and Antu Valley from Nepal for myself. Mine looked paler than most regular teas and tasted indeed pretty light with a hint of smokiness, making it a good thirst-quencher.
(Click on a small image for enlarged view)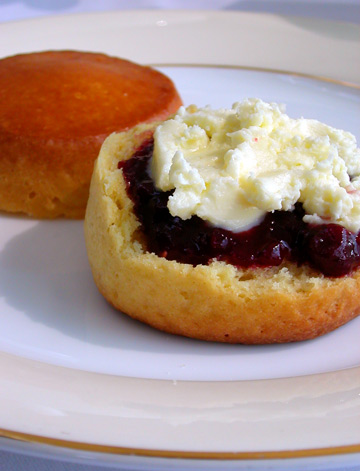 Scones. I would have been happier had there been a more generous serving of cream, but it was alright, specially when they had raspberry (or mixed berry, I couldn't quite tell) rather than staple strawberry jam, which I don't like.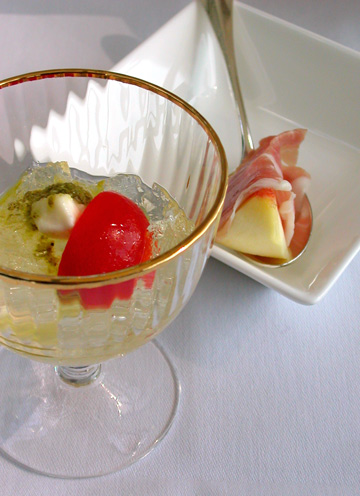 Elegant bites from a tray that a waitress brought to our table. Jellied "Insalata Caprese" with a cherry tomato quater, pesto, and fresh mozzarella cheese, and a fig slice with prosciutto. I particularly liked the fig with a subtle flavor of olive oil.
Also from the tray were muscat jelly and orange panna cotta. Both were good except the panna cotta had a slight anise-y flavor (I could live with it, but wouldn't want a second).
N had other two glasses of these: one was blueberry jelly and the other was kuzu-kiri (Japanese arrowroot starch cake) with maple syrup, both of which were good.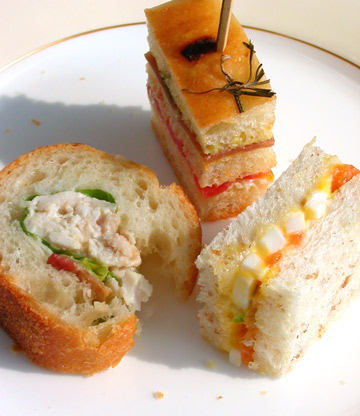 Back to our tea plates, we had three small sandwiches for each. I casually popped the egg-salmon one into my mouth and gasped - it was strikingly good. I could call it the best egg sandwich I have ever eaten, but it was too small a bite for me to really declare that... must go back and try some more, perhaps.
In the course of eating all this, we had and finished another pot each of tea. This time N had Ruhuna, another Sri Lanka tea, while I had India's classic Darjeeling, which was reasonably good. Now we decided that it was time to move on to iced teas, which they call "iced tea refreshments" at the Lounge. Contrary to their rather standard selection of premium leaf teas with which you'd really enjoy the respective tea itself, their line of iced tea drinks had a bit of playful touch, offering an interesting combinations of teas and fruits juice - kind of like cocktails, but minus alcohol.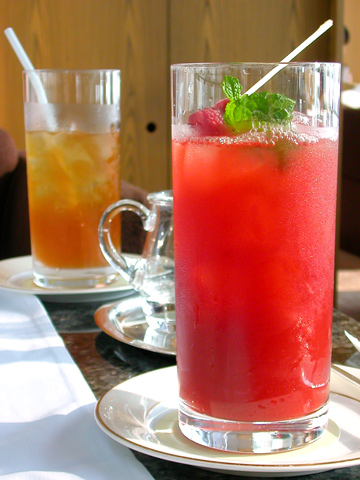 Our first choice of iced drink were: Oriental Delight, bitter melon tea mixed with passion fruit juice and brown sugar syrup, for N; and Pink Submarine, a mixture of lychee tea, pink grapefruit juice, and raspberry puree for myself. With the bright and light scarlet color, my "submarine" was really light and pleasantly acescent, while N's bitter melon (goya) tea was fun to taste - sweet but noticeably bitter. By the way, as you may have guessed, the teas were quite big; they must have contained well more than 20 ounces, which is plenty for a glass of tea in our standard in Japan.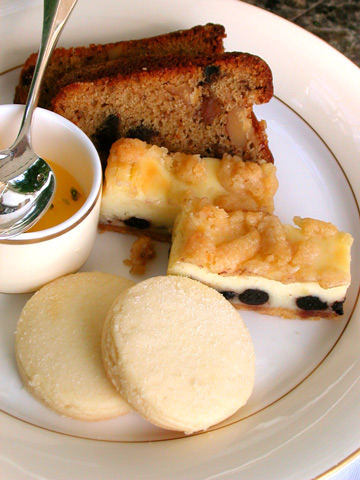 While enjoying the iced refreshments, we nibbled some sweets from our plate. We had small slices of fruit cake and cheesecake (that's my guess), and lemon cookies with lemon curd. I liked the cookie - it was nicely tart and sweet, thanks to the curd.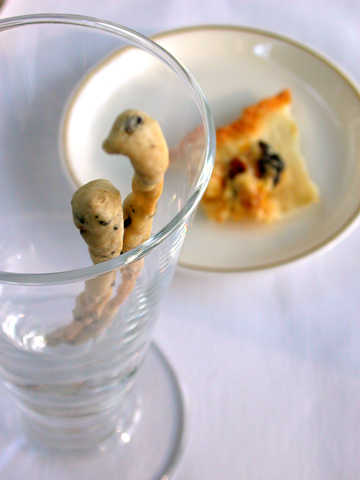 Some more bites from the strolling tray: sesame
grissini
or breadstick and
crostata
or a thin cracker with dried fruits.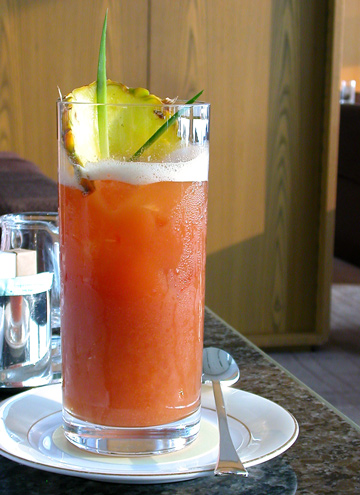 We thought our iced tea drinks were too big, but eventually we drank them up and got to our second round. I got Coral Reef Shake, a blend of ceylon tea, guava puree, and pineapple juice - wasn't that about the same combination as Mariposa Plantation Tea which
I have just recently turned into gelatin dessert
? Well, theirs was a "shake" and not in three layers, and although I'd opt for Mariposa's signature tea drink, this one was nice and refreshing itself.
The fourth of the iced tea drinks was called Iced Tea Punch which was a melange of dried fruit tea (that is what they say on the menu; I have little idea what kinds of "dried fruits" are in it), hirami lemon juice, and honey syrup. Loaded with lemon slices and tasting a bit like rosehip/hibiscus tea, the drink was super-refreshing - we agreed that this was a winner.
By this time the sun was going down low, but it was still pretty bright.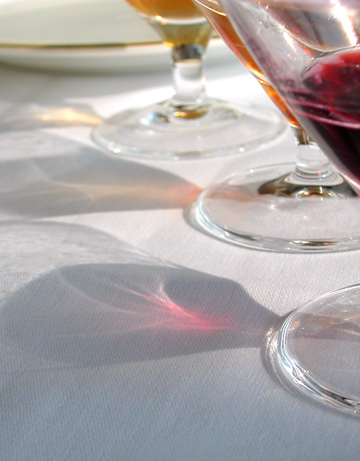 Actually, for the entire time we were at the table, the afternoon sun was dazzling and we were a bit worn out from it. There was of course the window shade pulled down, but it helped only a little. We would have enjoyed a whole lot more if it hadn't been that bright.
Anyways, we still stayed there for nearly three hours now, drinking, nibbling, chatting to catch up on each other's news. Then the last call came, so we had last small bites of our favorites from the tray - in my case muscat jelly, crostata, and fig with prosciutto.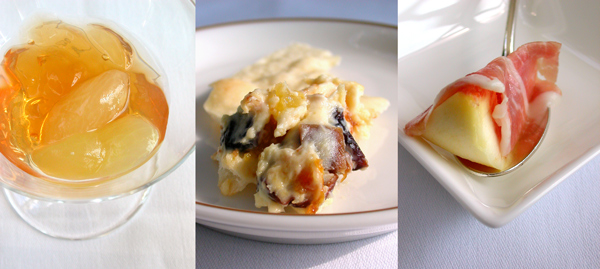 We were pretty stuffed, but nevertheless had our last teas to wrap up the day: the last on the tea menu was Assam and Uva, both are good with milk.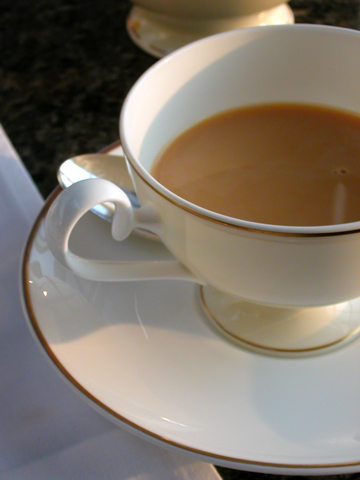 We had somehow reserved one scone for each, which we wanted to have with our last "proper" cups of tea with milk. Their Assam was as strong as it should be, and that was a nice way to end our tea ceremony.
We left our table in the gathering twilight, totally satisfied with the quality time. It may not look like that, but the food wasn't really a lot - it sure was big, but not all that much as individual portions were tiny. But we did drink a lot; together we must have drunken over a gallon of tea in total over the course of some three hours, trying all of the teas on the menu on the day. I wouldn't say the set is cheap (3,300 yen or approx $30 per person, tax and service charge inclusive) but considering the quality and amount of things we had in the relaxing setting with reasonably good service, we thought it was well worth.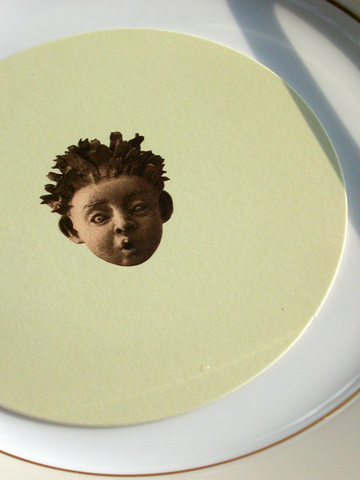 Now the only complaint we had after having a small luxury was the grim reality that we had to travel home on packed trains in the hot evening. Oh that was the way it was, I reckon.