Take a guess: which one of the three is herbed chocolate cake? Or spiced? Or plain?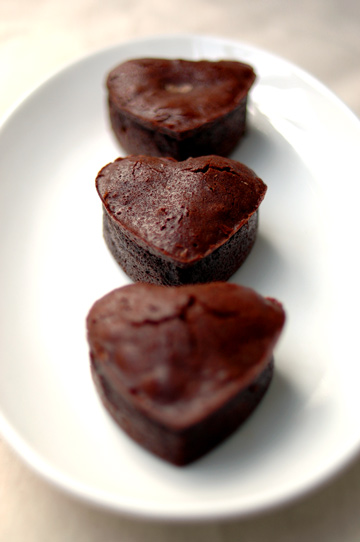 Well, no one knows the answer, including myself who actually made and shoot these. Truth is, they all looked pretty much identical, basically, and even I wouldn't know which-is-which by merely seeing them. Besides, I made these a long time ago - a couple of months back - and can't quite remember how I arranged the cakes for photo shooting, so and so by now I've lost the clue.
Moreover, they didn't taste dramatically different from each other. My family even said that they couldn't quite taste the difference after trying all the three flavors. For the spiced cakes, I added a bit of ground cinnamon, nutmeg, cloves, cardamom, and ginger, along with a minced chili pepper. I tried to go for too little rather than too much in terms of spices, because as a spice addict, I knew I'm prone to use a rather overpowering amount of spices in anything I make. And then, it turned out to be a bit too subtle this time; we'd taste something spicy very faintly, and it was only as an aftertaste that the tang of chili came. I'd liked them a lot more better with more of a kick.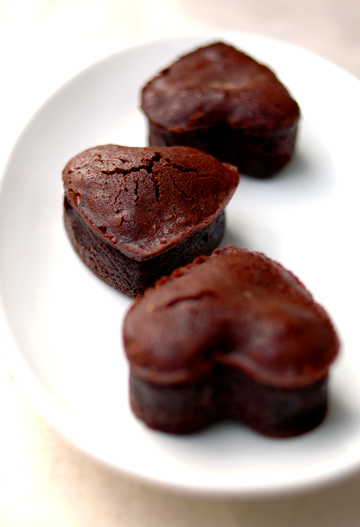 For the herbed ones, meanwhile, I used fresh mint and rosemary. While I am electric with anything rosemary-y, this time it was mint that was meant to take center stage. I chopped up a good amount of fresh mint leaves together with a little bit of rosemary needles and simply added to the cake batter. When they came out of oven and served, there definitely was that soothing scent of mint in them, but again, not so much. I didn't get to trace rosemary at all.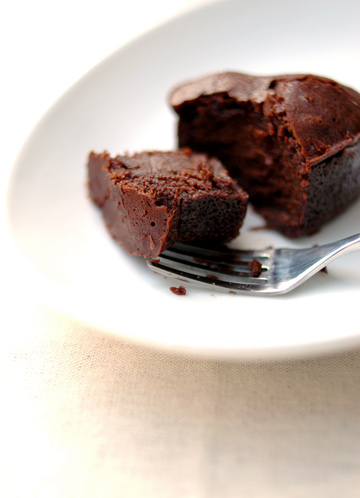 All in all, the cakes were delicious, nonetheless. For the cake batter, I used a Trish Deseine recipe that appears in (at least) two of her books:
Petits plats entre amis
(Marabout, 2001), and
Je veux du chocolat!
(Marabout, 2002), both of which have an English version published. I might have overbaked them a bit, but they still had a very soft and velvety, melt-in-the-mouth texture that the cake is supposed to have up to its namesake: "Fondant de Nathalie" (it is called Nathalie's Melt-in-Your-Mouth Chocolate Cake).
Now I don't know about you, but chocolate is something I associate with winter the most. I could (almost) eat chocolate and anything chocolaty on any given day of any given season, but it is in the winter when I'd get in a twitter looking for choc-flavored sweets in the shops while busy flipping through my pool of chocolate recipes that have been stocked up.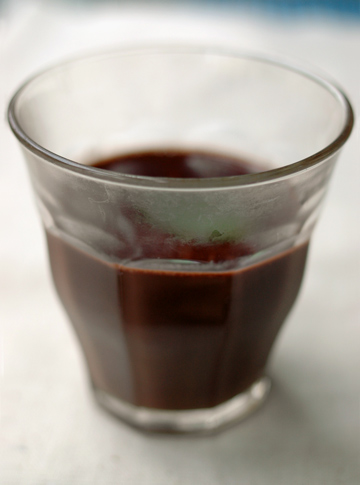 This winter, I'm particularly in the mood for flavored hot chocolate. I love classic, thick and sweet plain hot chocolate made with good bittersweet chocolate, but for now I'm having fun playing with possibilities of flavorings for this wintertime specialty. So far I've tried it flavored with some herbs, spices, and teas - and here's a very simple minted hot chocolate made with only a real, fresh mint leaves. I warmed my milk with sprigs of fresh mint and let steep for a while, then used the minted milk to make hot chocolate. The milk didn't smell of mint very much, but once it was mixed with chocolate, it gave out a fresh, sweet aroma of the herb, making a refreshing addition to a strong bittersweet drink. More of record of my flavored hot chocolate will follow shortly.