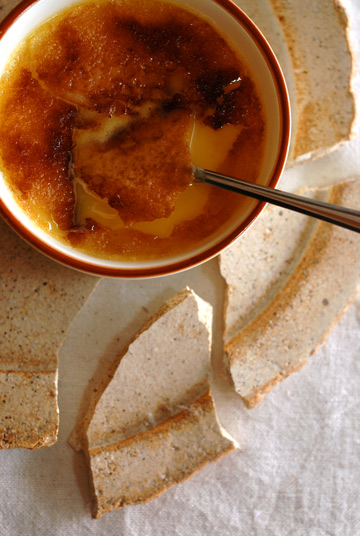 Despite the piercing cold and harsh dry air, or maybe because of it, there are more than a few things that I look forward to enjoying in Tokyo winter. One of them is definitely this: yuzu.
If you don't really have an idea of what yuzu is, you might want to refer to a
post
that I did about the winter citrus including some photos. This winter, too, I've been heavily using the fruit in everyday cooking, of course, and in some sweets as well.
The first thing I tried was mousse. One day when I was working on my computer the idea sort of popped up in my mind, so I tried to work it out only to see it miserably fail. I made white chocolate mousse, yuzu mousse, and yuzu-ginger jelly and intended to put all together in a certain shape, but that just didn't work, although they tasted good.
I might give it a revenge when/if the time is ready, but for now, as a quicker and easier solution, I made yuzu-white chocolate creme brulee instead.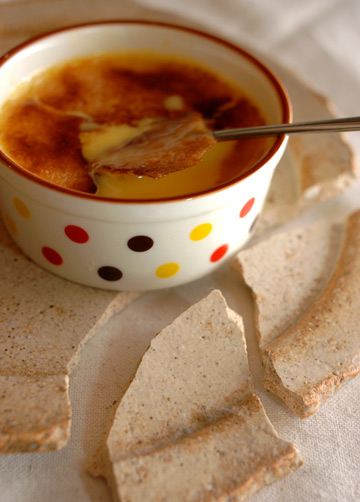 This time things turned out better, probably because it is difficult to mess up with creme brulee anyways. I like the combination of yuzu and white chocolate, so I will probably elaborate this a bit further in the future, but meanwhile, I had to try it in the other way, too: with regular (I mean, bittersweet) chocolate.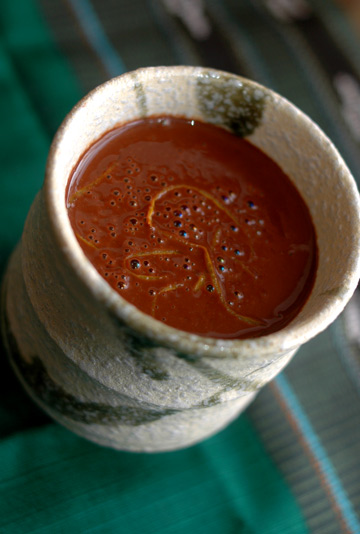 This winter, hot chocolate is what I'd turn to first whenever I want to try out some new flavor with chocolate. I've done it with herbs, teas, spices, and liquors - most of which I haven't covered on this blog yet, I realize - and why not yuzu? With ample doses of grated zest and juice of fresh yuzu, the bitter and strong hot chocolate turned out beautifully (I used my flavor-of-the-week hot chocolate recipe by Pierre Herme, which doesn't use milk or cream, found in
Chocolate Desserts by Pierre Herme
by Dorie Greenspan [Little, Brown, 2001]). Personally, I found it a little surprising that bittersweet chocolate actually underscored the flavor of yuzu better than white chocolate did. Or, I might just have used A LOT of yuzu, that's all.
However, you wouldn't usually have to use a lot of yuzu to bring out its flavor in things; even a pinch of needle-thin slices of yuzu peel will do. Last weekend we had one surprisingly warm day in Tokyo, and that's when I savored the unexpected weather, lazily reading by the window with a relaxing cup of Earl Grey (smoky, bergamot-scented black tea) with a slice of fresh yuzu.
I wish. In reality, my work schedule didn't allow me to lazily read all day, but I did have my fill of good tea, at least. A yuzu slice in black tea doesn't seem like a common thing to have even in Japan (some people like a slice of lemon in their tea, though), but it was refreshing and soothing, and instantly reminded me that Tokyo winter isn't
that
bad, after all.