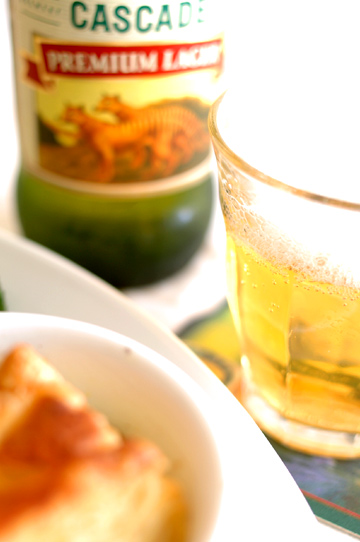 Tasmania, it has already been more than a month since I set my foot on the island with some stunning, untouched natural beauty. For years I had been longing to visit the island, and I finally made it happen, although for a moment I almost gave up the plan, being too busy while staying in Melbourne. I am very glad that I eventually did, and it was absolutely worthy. After all, it would be a long way to get there if traveling straight from Japan, but I was at the time in Melbourne, where Tasmania is only an hour of flight away. If it hadn't been now, when could it have been?
Having had much thought, I chose to get on a tour operator-run five-day tour going (almost) around the island. Although it had been my dream destination, I had done little research beforehand, and all I had known about the island was, well, close to nothing other than such well-known names as Cradle Mountain, Lake St. Clair, and Wine Glass Bay and just some vague ideas of penguins, bushes, beaches, and wineries. So I thought it would be handy to get guided around and discover something more than I had known about.
And it was a totally amazing five days of my life.
One month having past, the stunning images of the things I saw and the great time I spent with fellow travelers there still remain just as fresh in my mind, especially when I look at the pictures I took there; a total of some 600-700 images saved, and I must have clicked away more than double that. That is partly why it has been taking me so long to organize my album, but I am almost done... and here is some of it that I would like to share: click
here
to launch slideshow of my Tasmania photos if you dare to go through (eventually) a few hundreds of images in one go. Otherwise, click on any of the images shown in the flickr badge currently posted in the left-hand side column of this blog for random individual images, or simply go day-by-day with the links below.
Day 1: Launceston - Cradle Mountain area.
Started off from Launceston, a northern city of Tasmania, headed up to famous Cradle Mountain area to spend a gray, wet, cold afternoon. Did an easy two-hour walk around Lake Dove, with Cradle Mountain itself out of our view, hiding in the misty air. Saw some other mountains covered with snow and a little lake called Lake Lilla, though. Stayed in a lodge whose common area had a fire log that kept us warm (yes,
very
warm) in the cold mountain night.
View slideshow
(32 photos).
Day 2: Montezuma Falls - Ocean Beach - Strahan.
A day of three-hour bush walk to see some magnificent waterfalls. The walk itself wasn't so bad and the waterfalls were very impressive with an exciting walk on a suspension bridge, but it was just too cold and wet, wore me out a lot. Ocean Beach is a beach facing a longest stretch of ocean on the planet without a landmass between here and South America - not westbound, the other way around.
View slideshow
(35 photos).
Day 3: View of Queenstown - Nelson Falls - Lake St. Clair - Mount Field National Park (Horseshoe Falls and Russell Falls) - Hobert.
Just a quick view over Queenstown followed by some walks to thundering Nelson Falls. Late afternoon was spent walking in a serene bush in the Mount Field National Park to find yet another two well-photographed waterfalls, namely Horseshoe Falls and Russell Falls along with old tall trees.
View slideshow
(43 photos).
Day 4: Port Arthur and some coastal views.
Coming soon!
Day 5: Ross - Wine Glass Bay - wildlife park - Launceston.
Coming soon!
Now I'm not planning to turn this into a travel blog, but as you may have sort of guessed if you have seen my photos from Tasmania, we ate our way with sandwiches and rolls for lunch and cooked ourselves dinners at hostel kitchen. In fact, out of the total of 7 days of my stay on the island, I ate out at a decent place only once, and it wasn't even a real Tasmanian dish. So in memory of (or lack thereof) food of the island under down under, I recently whipped up some self-declared Tassie dinner: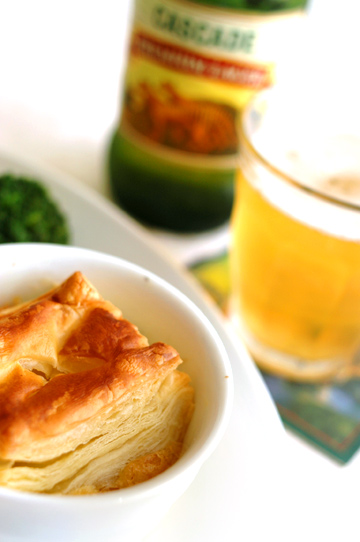 Gruyere and Onion Pies, based loosely on a recipe from
A Shared Table
(Viking, 2000), by
Stephanie Alexander
. In the book which is based on a TV series of the same title, Stephanie Alexander travels to different regions of Australia and features local producers and cooks and the like. I, of course, took the recipe from the section for Tasmania, although the cheese and onions could be specialties of anywhere, really.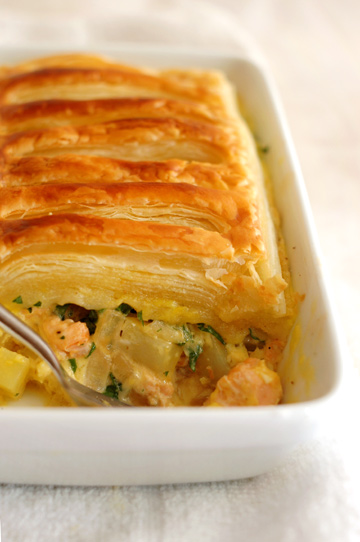 The original recipe was for tart, but I couldn't bring myself to make short crust pastry dough myself, so simply used a store-bought puff pastry instead, lined it over the filling in dishes, and popped then into oven. Although, I made two versions of filling - one with pumpkin as suggested in the book, and the other with salmon and potato with lemon, as I thought salmon would be one of products that Tasmania is well known for. Both turned out safely yummy.
I managed to boost my Tasmanian night with some dessert: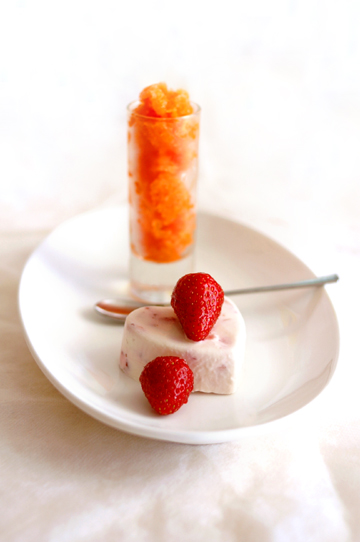 Rosewater-scented Strawberry and Mascarpone Mousse with Carrot and Rosewater Granita and Macadamia Nut Shortbread. This was Tasmanian in a way that, lo and behold, it was based on a recipe by Chris Jackman, a chef at Choux Shop, a restaurant in Hobert, even though I turned this a little - well, totally different stuff (typical me). The original recipe appeared in the April 2006 issue of
Gourmet Traveller
magazine, and it was called Rose Geranium and Strawberry Mascarpone Charlotte with Carrot and Rosewater Sorbet. Now I couldn't be bothered to bake sponge, I simply left it out, hence mine was not charlotte any more. I also omitted rose geranium that is supposed to be used for the cream, as it is something I can't easily find in my neighborhood.
The cream was made by mixing up some cream, milk, sugar, rosewater, mascarpone, liquor and strawberries, while the granita was carrot juice, sugar, and rosewater. Use of rosewater or other flower water in desserts seems to be the flavor of the week, but the pairing with carrot juice sounded rather uncommon and intriguing, I guessed - and they went very well together, to my delight. I could have added a little more rosewater to both of the cream and granita, though.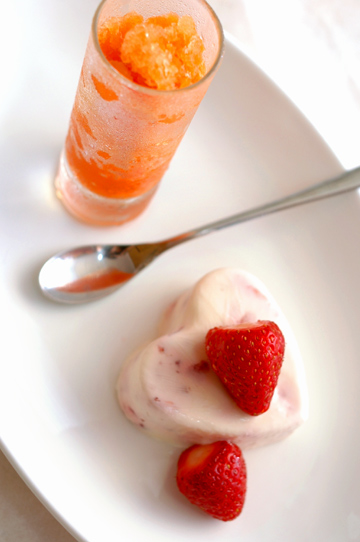 Without doing the charlotte part, the whole thing was extremely simple to make, and it still managed to look pretty and had a complex flavor. My easy solution of replacement for the sponge was shortbread, which I forgot to include when shooting photos... you can call it typical of me, but I blame a
Cascade
I had had over dinner, the only true taste of Tasmania we really had that evening...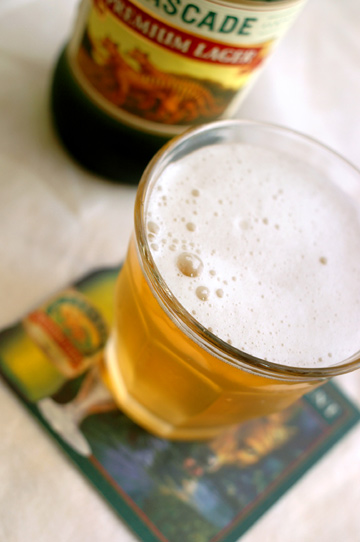 ...Even if what I
had been having
the whole time
while I was on the island was actually VB or
Victoria Bitter
, a more common beer from mainland Australia. Well, that's another story. I will eat and drink more locally, I promise to myself, if and when I find myself again on the beautiful island, which I really hope should happen sometime in the future... it's only matter of when.