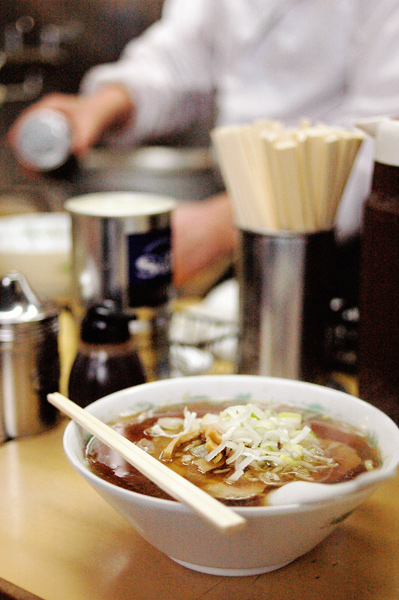 A bowl of
ramen
in one of its simplest forms; vermicelli-like extra-thin noodles in soy sauce-based broth, topped with a couple of slices of cured pork and a mound of thinly sliced spring onions. I always have mine with generous shakes of ground black pepper, but it's up to you.
A word or two about ramen; you can eat your ramen in any way you like, but if I were to give you just one advice, it would be this: whatever you do, gobble down your noodles as fast as possible. Or they will soak up the liquid endlessly and expand like crazy, getting too soft to be palatable - and sooner than later you'll find yourself comfronted with a mushy mess of tasteless, soggy noodles that refuse to disappear no matter how hard you try to finish them.
So, if you are at a ramen bar with company, don't eat and chat at the same time; eat first,
then
chat, unless you want to ruin your meal. Or, unless you are skilled at juggling eating and chatting (without being rude), like I am!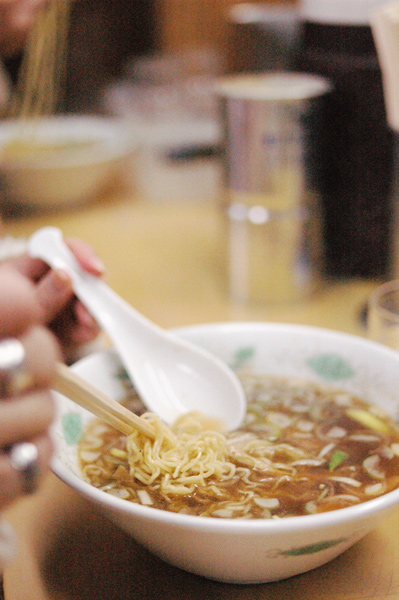 Anyways. Welcome back to Japan, J!
>> Look back last year's Mission Breakfast at Tsukiji
here
.