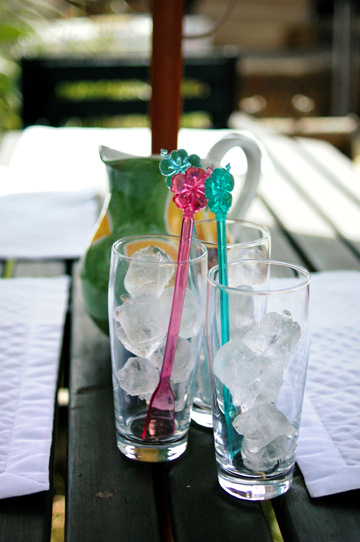 It was a mid July Sunday when the heat waves were just about to hit hard London and the rest of the country for the coming week or so. It happened to be my last day in town - I was set to fly later that evening. The night before I was invited by a friend of mine to a garden dinner at their family house, and they kindly put me up for the night, after what had turned out to be a lovely dinner full of seasonal vegetables and fruits, and booze to boot.
While the temperature was still about 80F (it later climbed up to 90s, which is quite rare for London), it felt dreadfully hot. I was going to spend my last afternoon doing nothing big but just chilling out, and we thought we'd go out and throw ourselves down on the green in the afternoon.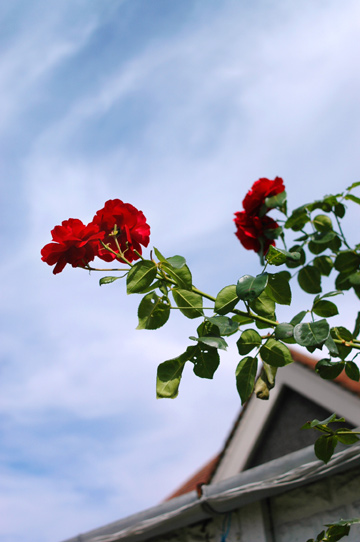 That was a bad idea. Although we did go out to eat lunch and dropped by a nearby park (or a common, as they call), we couldn't even lie flat for ten minutes - it was way too hot, even for my friend who is English (they are known to take in the sun whenever they can, or so it seems). So we quicky gave it up and decided to head home to stay in the shade. With some bevvies, of course.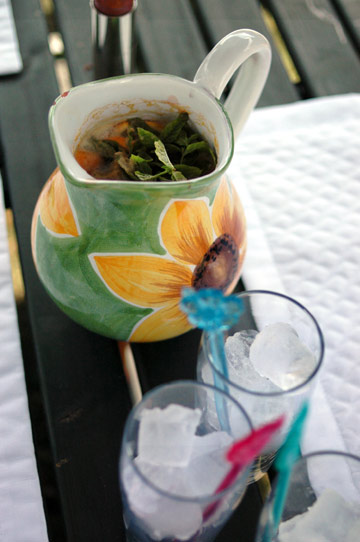 That was when a jag of
Pimm's
came to fit the bill. Unmistakably English, Pimm's is definitely a drink of summer; sweet and light, easy to drink and easy to get you drunk (well depends). Mixed up with lemonade, it is traditionally served with some citrus wedges, cucumber strips and mint sprigs at barbecues, garden parties, sport events, you name it. In fact, during my two-week stay in the UK in July, I saw signs of PIMM'S literally everywhere; when
I was at Wimbledon
, champagne and Pimms's were two of the drinks that dominated outside tables, as plausibly claimed on the
Pimm's website
that "[t]oday, during Wimbledon fortnight some 80,000 half-pints of PIMM'S(R) & Lemonade are sold to spectators who should have their eye on the ball".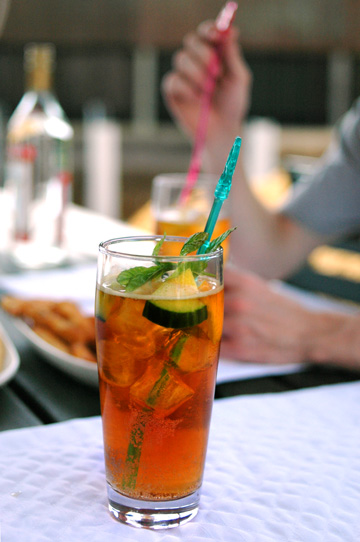 That Sunday, we didn't have a ball to have our eye on around, and just the fact that it was a sunny and warm weekend afternoon seemed to be enough a reason for us to fix and sip some Pimm's in the garden. They liked to boost up their "Pimm's No.1 Cups" (that's the name of the cocktail) with a pour of Vodka, which I politely did not take. Although I ended up with three glasses over a few hours of chatting. I had such a great time to cap up my two-week stay in the gracefully sunny Great Britain.
So much so, before setting my foot back in Tokyo in the midst of an persisting monsoon season in late July, I had had my mind set on one thing: Pimm's on the green, destination Tokyo. While we don't have a nice garden or whatsoever with a large table and chairs in the shade, we conveniently have a river just down the road, with a large area where it gets busy with people playing sports or doing barbecues in weekends.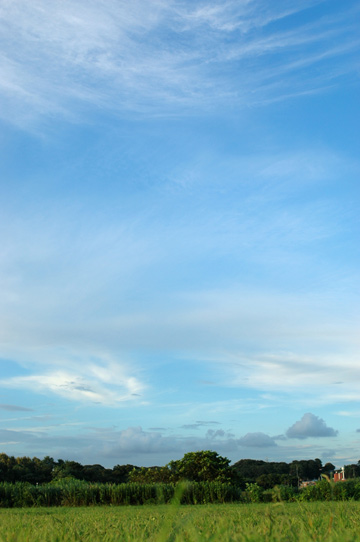 It took me about a few weeks to finally get rid of rain clouds and see some clear sky, by which time it was already pretty chilly in London(!). Over here, it was of course scorching hot during the day, but the heat would gradually wear off as the day declined.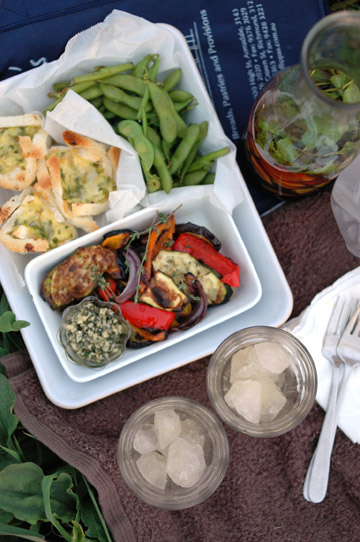 To reasonably match the English concoction, I whipped up some food with recipes from the UK; the salad was based on
this recipe
for Barbecued Vegetable Salad With A Basil Dressing, except I didn't barbecue the vegetables but just cooked them under broiler instead. The dressing should basically be a basil pesto with cashews, but I also didn't paste the ingredients in a food processor (which I don't own), and simply hand-chopped them. It was still very nice - herby and garlicky.
The mini bread quiches were a cheater's version of this
Leek and Cheshire Cheese Tart
; since I couldn't find Cheshire cheese in my neighborhood, I used some mature cheddar, while substituted Japanese sweet green onions and scallions for leek and chives. In addition, I skipped a tart shell altogether and instead used thin slices of sandwich bread, spread with butter and grainy mustard. Despite this much of omissions and alterations, the quiches tasted great, and disappeared right away.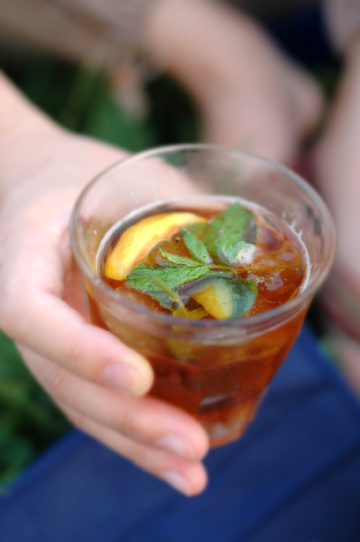 At home, I am tempted to make my Pimm's cups with ginger ale rather than lemonade - which shouldn't come as a surprise when I'm a kind of person who'd mix ginger ale in pretty much anything, from beer to red wine and
Earl Grey
to
green teas
. I steeped lemon and cucumber pieces as well as mint in Pimm's for half an hour or so before pouring it over ice cubes (made of ginger ale!) along with the soda. By the way, am I supposed to eat the cucumber in Pimm's? (I tried one, but it tasted too bitter having been soaked in Pimm's.)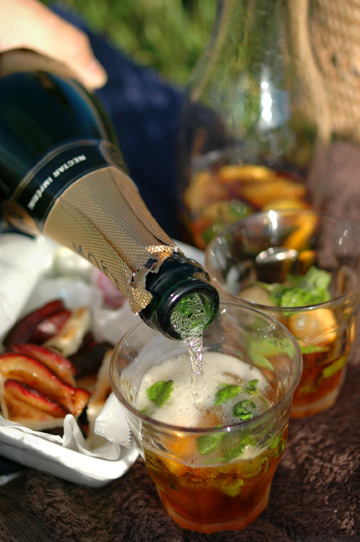 We took our Pimm's and food, towels, some books and magazines, small candles, and some mosquito repellents with us, and treated ourselves to a small luxury of food, drink, and quality time. We enjoyed it so much we did the same again the next day, this time for even little more of luxury with champagne for so-called Pimm's Royale - Pimm's topped with champagne. Brilliant.
Once we had eaten our food and drunk our Pimm's or two, it was time to lie down to read or watch the sky change its color as the sun was setting, until it was too dark to see anything and we would almost fall asleep. Basically, I loathe hot and sticky Tokyo summers, but in such an evening with some nice breeze in the riverside air, I'd have to admit that it actually could be not so bad. Sometimes at least.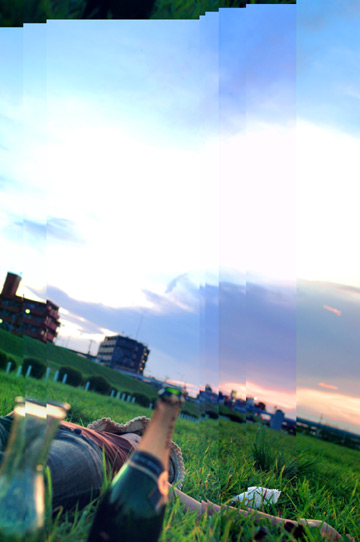 Lovely summer evenings aside, my D70 messed up with some image data that day; exact the same thing had happened to my friend's D70 before, and this was my turn. Thank goodness it's not out of the one-year warranty yet, but it is actually about a year since I bought it... making us suspect a Nikon timer, just like the
Sony timer
. Maybe, maybe not.
Speaking of a suboptimally-functioning camera, I had such a one that I used to
shoot some fireworks (and drinks on the green, too!)
last summer. In fact, it was almost exactly one year ago, as we just had the same fireworks show the last weekend. This year I had a better camera, and had also been given some extremely practical and easy-to-follow tips for shooting fireworks with a dSLR by a friend of mine who is a professional photographer.
Well, I forgot to follow some of his directions and ended up with literally hundreds of craps. (For your reference, if you are good enough to be a professional specialist fireworks photographer, they should look like
this
.) Still, the fireworks were impressive as ever, and I managed to produce some acceptable images, which I think I can share with people.
If you have never seen fireworks in Japan, you'd be impressed by just how well they are all made, and my pictures, although clumsy as photography, might hopefully give you some idea about them if you go through
this
(a new window will open to launch slideshow of some 80 photos) - these were only parts of the one-hour long spectacle, and it's not even the biggest fireworks event in Tokyo. If you have seen one before, well, you'd probably not want to see this to get disappointed; instead, you might want to take a look at
a shorter version of slideshow
with some 30 selected images, just to remind yourself how good the real thing was.